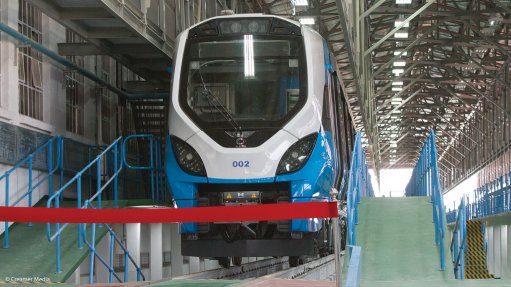 Gibela's X'Trapolis Mega train, built for PRASA
Photo by: Duane Daws
The number of local suppliers in the R51-billion contract to produce 600 new passenger trains for the Passenger Rail Agency of South Africa (PRASA) has reached 32.
Six trains have been completed and shipped to South Africa to date. These units form part of an order of 20 that are being imported from Brazil, with the remaining 580 trains to be produced in South Africa.
Gibela, a joint venture between Alstom, Ubumbano Rail and New Africa Rail, is responsible for supplying the trains to PRASA.
Gibela CEO Marc Granger says his company has no contractual obligations to add local content to the Brazilian-built trains. However, Gibela took a strategic decision to get a headstart, in an effort to ensure that local suppliers are well prepared – in terms of technical capability, capacity and investment – for what will be an intensive manufacturing programme once local production starts in 2017.
Local manufacturing at the Dunnottar plant, under construction in Ekurhuleni, will peak at the end of 2019, at a rate of two train cars a day, or 62 cars a year, says Granger.
"This do this, 10 000 parts will have to come on site every day, from 250 suppliers. This is a very, very significant challenge. Only the best factories in the world can deliver this."
For each train that is currently built in Brazil, 22% of procurement spend is on components sourced from South African suppliers.
At peak production, between 65% and 70% of the components will be locally produced, by value.
Train 21 will have "significantly" higher local content than the Brazilian produced trains, says Granger.
This means Gibela is on the hunt for more local suppliers.
The focus is not only on the large tier one suppliers, but also tier two, three, four and five suppliers.
In the end, Granger wants every "chemical and paint" used in Gibela components to come from South Africa, rather than any components being imported for use or assembly in the country.
At full production, Gibela anticipates that around 200 local suppliers will be delivering parts to Dunnottar.
This leaves the consortium with two years to find a significant amount of local suppliers.
Granger adds that the project to establish a supplier park next door to the Dunnottar plant "is progressing well".
It has been agreed by the Gibela shareholders that Ubumbano Rail will be the main developer of the park.
Supplier Support
Gibela has, over the last two years, provided technical support to a number of suppliers, as part of a drive to ensure that they meet the group's quality requirements.
Gibela's contract with PRASA came into force in 2014.
Siyahamba Engineering, responsible for the supply of the cabin doors and partition walls, was, for example, supplied with a consultant from the UK to assist the company in refining its production processes, says CEO Julius Motshopi.
The goal is to help these suppliers "make it on their own", says Granger.
LED Lighting South Africa is a Cape Town based medium-sized company. It supplies Gibela with one of the world's first set of exterior LED lights to comply with international rail standards.
"I am proud of the offices and factory we have set up," says CEO Andrew Glenday. "They are as well established as any factory in the US or Europe. We are making world-class products and we are gearing up for exports."
Glenday says any large contract such as the one Gibela and PRASA signed, would often see only big, established suppliers provide components to the production line.
Now, however, the work is largely given to smaller companies.
"There are plenty of examples of how public procurement in South Africa leaves a lot to be desired, but this is a real example of how things can be done."
Global Composites was originally set up to supply cabs and cabins to Bell and John Deere.
The group, in 2013, pitched its product to Alstom, says FD Nils Lutz, where it was targeted as a ceiling supplier.
The company now supplies ceilings to Gibela, at 75% local content, partition walls, at 80% local content, and luggage racks, at 80% local content.
"We think we can improve on these numbers," says Lutz.
Through its interactions with Gibela, Global Composites has improved a number of its manufacturing methods, such as its aluminium welding process, he adds.
Lutz believes the Gibela contract will create up to 40 new full-time jobs at the company.
Global Composites also aims to set up a new venture, with a black-women-owned company, in the Dunnottar supplier park.
Supplier List
The local suppliers to Gibela include:
Siyahamba Engineering – cabin doors, cabin interiors, including partition walls
Booyco – saloon heaters, driver footrest
ILVA General Engineering – air tank - reservoirs
KAMA Industries – horns
Profibre – passenger seats, longitudinal benches
KARE – battery box
First National Battery – batteries
Denel – baseboard ducts
Global Composite – luggage racks, equipped ceiling, cab and saloon air ducts
Delberg Engineering – handbar and backrest
Radel – passenger and cab lighting, door light indicator, voltage indicator
Gibs – insulation
Crest Information Systems – door external fairing, extract air duct in cubicle
Laser Junction – brackets, cab foot step
Laser Junction/General Profiling Matla Steel – coupler push back
Laser Junction/SPE – tool box
Jandinox – equipment support
Buzas – obstacle deflector
Columbus/Macsteel – stainless steel
Arcelor Mittal SA/Macsteel – carbon steel
LED Lighting – external front/cab lighting
Aberdare – cables, wires
Forminox – piping