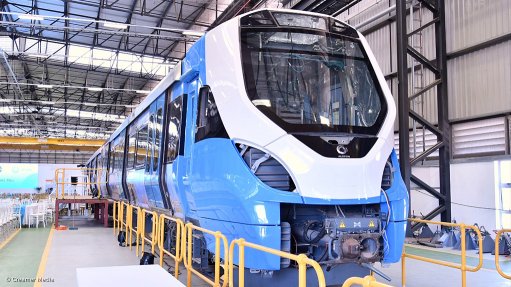 Photo by: Dylan Slater
President Cyril Ramaphosa on Thursday officially opened the R1-billion, 78 ha Gibela train manufacturing facility at Dunnottar Park, in Nigel, east of Johannesburg.
Members of the Southern African Development Community Secretariat, Passenger Rail Agency of South Africa (PRASA) acting group CEO Sibusiso Sithole, PRASA chairperson Khanyisile Kweyama, Gibela chairperson Mpho Makwana, Gibela CEO Thierry Darthout, Alstom Middle East and Africa Senior VP Didier Pfleger, Alstom Southern Africa MD Xavier Boisgontier, and executives from Ubumbano Rail and New Africa Rail also attended the launch.
The Gibela consortium, which comprises Alstom, Ubumbano Rail and New Africa Rail, invested in the construction of the largest and "most advanced" train manufacturing facility in Africa, according to Gauteng Transport MEC Ismail Vadi, who spoke on behalf of Gauteng Premier David Makhura.
The facility will manufacture, assemble, test, commission and deliver 580 new X'Trapolis Mega commuter trains comprising 3 480 coaches for PRASA. The facility is expected to deliver two new trains by December, and an additional nine trains by March.
The workshops are designed in a modular format to enable lean manufacturing processes which will, at peak production, produce 62 trains a year. This is important, said Vadi, because the country has to provide regular and reliable transport for 2.3-million rail commuters – a number that is expected to double in the next 20 years.
Vadi noted that the factory and the rolling stock it produces would aid in the transport department's goal of improving the "ailing" Metrorail system, which conveys 900 000 people a day. It would also assist in alleviating road congestion through the development of safe, world-class coaches, which would assist in promoting a shift from private to public transport.
He stressed that the facility was more than just a factory, it was a "catalyst for public transport in the province and in the country..
The industrial complex houses a factory, a supplier park and a Rail Training School, to enable the continued transfer of new rail-related skills to Gibela's employees and suppliers. About 1 500 workers were employed during its construction, which started in January 2016. It took 22 months to complete; however, some manufacturing activities started in 2017.
The staff complement is 90% black and 49% female. At its peak, the facility will employ 1 200 workers.
The launch forms part of PRASA's 20-year Rail Modernisation Programme, which is aimed at revitalising the rail industry through the local manufacture of parts, maintenance, training facilities, the creation of jobs and training and skills development for PRASA.
To meet its local content commitment of at least 65% of contract value, Gibela has so far on-boarded 71 South African suppliers for materials, parts and services. More than 4 700 South African jobs are being supported by the company's activities.
French Ambassador Christophe Farnaud congratulated the consortium, noting that the level of investment speaks to the trust that Alstom has in the future of South Africa. He added that this demonstrated the continued commitment of French companies, which accounted for 10% of South Africa's foreign direct investment in 2017.
Ramaphosa stated that the launch was a "great moment" for the development of passenger rail, as well as the expansion of South Africa's industrial capacity. "It is a place like this and people like you that [. . . ] represent the expansion, growth and broadening of the economy and we thank you for being where you are."
He stated that commuter rail transportation was the most cost-effective and efficient means to connect people. He added that the market for rolling stock on the African continent would continue to grow owing to the increase in working population as well as urbanisation.
Further, he noted that the rolling stock renewal programme would result in over 8 000 direct jobs throughout the consortium's supply chain. The consortium already sources components and input products from 71 local suppliers; however, the President noted that the development of a supplier park, adjacent to the factory, is being considered.
He lauded Gibela and its shareholders for their involvement in and focus on community development, which includes the awarding of bursaries and mathematics and science tutoring.
"The training facility aims to train over 6 700 artisans, 2 000 engineering technicians and 600 professional engineers."
Ramaphosa noted that both the facility and its coaches would remain national assets that would continue to support the economy for decades to come.
THE TRAINS
The six-car trains are 131 m long and weigh 220 t. They comprise 145 t of locally-produced stainless steel. The train's commercial speed will be 120 km/h, but it can be upgraded to travel at 160 km/h.
A single car is 21.5 m long and, when fully fitted, weighs around 20 t. There are 3 000 components per car, 1 400 of which will be fabricated on site.