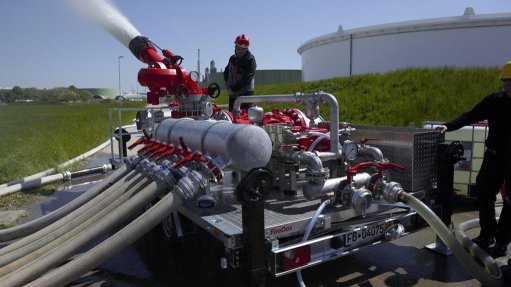 GERMAN SOLUTIONS IN SA 255 proportioner units with all model flow options have been delivered to South Africa to date
The latest Generation III foam agent proportioners of German fire-protection systems provider FireDos is in the final stages of certification and release to the global market.
As exclusive suppliers of the product in Southern Africa, special risk fire-protection equipment supplier DoseTech Fire is involved in supplying these proportioners to the local market.
"With the large FireDos proportioners, as well as the development of similar products, such as the new FireDos monitors, exciting opportunities have been presented to us with various projects. "This includes using the original FireDos proportioner and monitor on a portable trailer system – a unique concept and capability – for crude storage in Durban," states DoseTech MD Mike Feldon.
For example, portable foam dosing trailers, supplied by DoseTech, are also being used at refinery facilities, in Johannesburg, while DoseTech also provided the FireDos foam dosing proportioner for the foam tanker that extinguished a pipeline fire in Alberton, in December last year.
DoseTech has been the product and technology pioneer of the FireDos range in Southern Africa since 2001, as the range became an efficient upgrade to older foam-dosing systems used for firefighting at the time.
The new FireDos range includes a water motor, which is driven by water flow only and is proportional to the water flowing through the pipe to the end-point.
The water motor requires no external power supply and is directly connected to a positive displacement plunger pump. The pump sucks, pressurises and pumps the foam concentrate into the water stream with complete repeatability, with no effect from varying flow, pressures or back pressure.
The flow range is available from 500 ℓ/min to 25 kℓ/m sizes. Foam-dosing options of 0.5%, 1%, 2%, 3% and 6% are available.
Feldon explains that the design of the Generation III proportioners allows for simple use of the machine, as activating the fire water system causes the water flow to drive the FireDos proportioning pump. This does not require an operator.
Additionally, preventive maintenance measures include the manual rotation of the water motor every two months to align the seals and bearings.
The complete fabrication of all parts is performed in Germany and then distributed globally, with 12 000 proportioners supplied worldwide to date. Feldon highlights that the proportioner units will be certified by multinational insurance company FM Global.
Feldon confirms that 255 units with all model flow options have been delivered to South Africa to date, and notes an increasing demand in water foam fire-protection systems across most industries where flammable liquids are handled, used or produced.
While demand in other African countries is growing, Feldon highlights that opportunities for the company to supply the proportioners have arisen through DoseTech's working with South African consulting engineers, and engineering, procurement and construction companies.
DoseTech has, consequently, supplied proportioners to Ghana, Nigeria, the Democratic Republic of Congo, Zanzibar, Botswana, Namibia, Zambia and Mozambique.
Further, Feldon highlights that DoseTech will be supplying a FireDos foam proportioner for a fuel storage depot on a mine, in Mali.
The proportioner will be installed into a fixed fire-protection system on a diesel fuel storage facility. The end-of-line equipment will include foam cannons and fluorine-free foam concentrate.
While the proportioner is part of the previous range, as Global FM approvals for the latest range were still being finalised at the time of project supply, Feldon adds that other DoseTech products have been used on the project in Mali. This includes fire hydrant standpipes that were manufactured in Cape Town.
In its thirtieth year of existence this year, DoseTech will continue to push and market FireDos products, as FireDos is proactive in terms of exhibitions, marketing, partner training and market opportunity development, Feldon states on behalf of FireDos.
Meanwhile, this year marks the twenty-first year of the partnership between FireDos and DoseTech, as DoseTech started to do business with German water-driven dosing feeders manufacturer MSR Dosiertechnik, as FireDos were originally known, in 1998.
The two companies signed a first sole agency agreement in 2000, as MSR later became FireDos, focusing solely on FireDos foam dosing proportioners FireDos also added a range of fire- protection monitors, also referred to as water cannons, to its range in 2013.