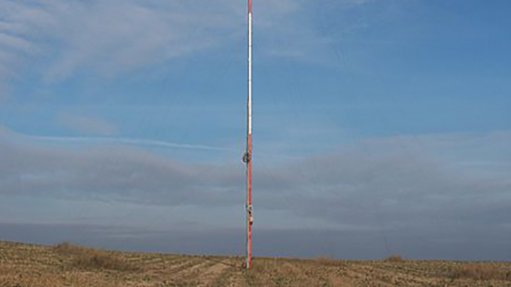 Wind mast
Solar resource technical service provider GeoSUN has expanded into the wind energy industry through a newly formed brand GeoWIND.
"We see the future of renewables being a combination of solar, wind and batteries, as well as other renewables. Clients will most likely be looking for a single service provider to offer both wind and solar measurements on their project site," says GeoSUN MD Riaan Meyer.
GeoSUN is a Stellenbosch University spin-out company and offers solar resource measurements and albedo campaigns for solar developers.
It also supplies specialised supervisory control and data acquisition weather stations for solar plants under construction and offers weather station calibrations, drone inspections and photovoltaic module testing and inspection services to solar plants that are in operation.
GeoWIND will offer wind resource measurements through wind masts, as well as light detection and ranging (LIDAR) as a turnkey service offering.
As wind turbines are becoming taller, so too must the height at which the wind is measured during the pre-construction measurement campaign, the company notes.
The most recent masts in South Africa are 160 m high. LIDARs offer wind measurements at 200 m and higher and is cost competitive, it adds.
On many projects a LIDAR is combined with a wind mast – after an initial comparison against the wind mast the LIDAR is typically moved to various locations on the project site for several months. There are projects, mainly in Europe, that have been banked by using only LIDAR measurements, the company states.
"GeoSUN is well known by its clients for its monitoring of remote solar measurement stations and the new wind stations will be added to this existing monitoring system. This will allow for quick response times to fix potential station issues and ensure high data availability and quality," the company states.
"GeoWIND does not offer wind data correlation, modelling and mapping, nor does it offer wind farm site layouts and yield assessments.
"We don't want to compete with technical consultants that are experts on the latter. We will focus on providing high-quality bankable wind measurements," Meyer says.
Clients will be offered direct access to the station's data on request.
South Africa leads the continent in installed renewable energy capacity. As activity in the renewables market is ramping up, the company decided to expand its existing African presence with the addition of the wind services.
Meyer will be heading up the new services from its existing offices in Stellenbosch.