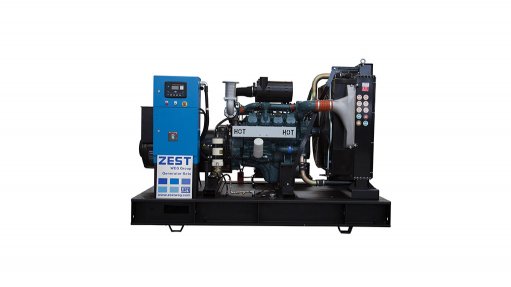 HOT HOT HOT The Doosan generator is one of the long term - mid range - solutions Zest WEG offers
With inconsistent power supply being an ongoing issue for companies in South Africa, electrical products supplier and local manufacturer Zest WEG Group offers synchronised generator sets (gensets) to the industry, which allow for continuous power supply, negating the startup and shutdown dangers that hinder production lines.
The gensets can be powered by one of the numerous engine brands that Zest WEG Group is able to offer and these units are synchronised on site to maximise efficacy and save customers time and money.
Zest WEG Group maintains that its fit-for-purpose synchronised gensets stabilise with the current supplied by State-owned power utility Eskom when startup and shutdown occur. This, in turn, removes the risk of having to stop production lines or surging supply jeopardising the machinery.
The biggest benefit of a synchronised generator configuration is that you can switch it on before a planned load-shedding and continue production without any disruption. Examples of this would include baking facilities or furnace-reliant operations as well as in hospitals where the flow of electricity needs to be maintained.
However, Zest WEG Group Genset division business development consultant Bradley van der Spreng says many companies are opting for a quick-fix to resolve the electricity crisis. "This is not the most cost-effective option in the long run, and companies need to realise that a paradigm shift is needed from the quick-fix thinking to solutions that offer long-term benefits."
He maintains that many companies overlook factors such as noise levels, exhaust material and routing, fuel storage and refuelling serviceability, electrical installation and positioning the genset on a suitable plinth/surface. These are in addition to considerations like machine life, maintenance and operational costs, which, in the long run, could cost customers even more in downtime and production losses.
Zest WEG Group Genset division is able to offer advice to customers on the correct power to space solution, assisting them in gaining better insight in terms of their requirements and also detering them from adopting a quick-fix solution. "If a customer has a 60 A main feeder, I would not necessarily offer a 60 A generator because each site load profile is different," says Van der Spreng.
Zest WEG Group offers a comprehensive load profile for each customer when doing an assessment so that the customer can see the benefits of using a reputable supplier.
Van der Spreng points out that Zest WEG Group has a team on hand to undertake a fully comprehensive solution assessment for customers so they can factor in all aspects of an installation – from product selection, delivery and offloading, to installation, commissioning and after-market services.
He mentions that the customer needs to do a business risk assessment to understand what they are losing in downtime and what sort of solution is needed at a cost-effective price to ensure that the company can continue operating.
Zest WEG Group will calculate the load required, where the genset should be located and if any infrastructure is needed, as well as factor in the maintenance and running costs. "We also invite customers to witness the factory acceptance load test, and all genset installations are in line with requisite local health and safety, environmental and electrical regulations."
Zest WEG Group offers a full range of gensets suited for smaller domestic applications from 10 kVA and driven by engine brands such as FAW and Deutz, while midlevel gensets, including Scania, Doosan, Deutz and Volvo engines are available for office, factory and industrial uses. Higher-end power consumers up to 3 350 kVA, such as the mining sector, shopping mall developments, hospitals and power plants, are catered for under the Perkins, Cummins, Mitsubishi, Baudouin and MTU umbrella.
Zest WEG Group highlights its flexibility through the variety of engine brands it supplies.
"Zest WEG Group maintains the viewpoint that customers should focus on their business risk and not quick-fix solutions and our full team of experts is always on hand to assist in tackling the need for reliable long-term solutions to the industry's power woes in the country," concludes Van der Spreng.