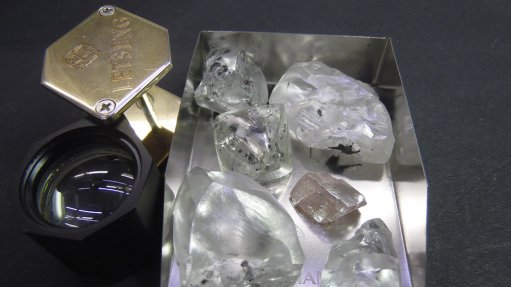 London-listed Gem Diamonds has raised $12.1-million during the first round of its Letšeng flexible tender sales process on March 26.
The Lesotho-focused miner in March launched the flexible tender sales process, following a large tender that had to be cancelled owing to travel and other restrictions imposed by various governments, including in Belgium, where the tender would have been held from March 16 to March 25.
The company says the flexible tender sales process will continue during the period of these restrictions. This sales process involves direct sales and partnership agreements.
The Letšeng mine continues to operate at full capacity, with Gem having put precautionary measures in place on site to safeguard against Covid-19 infection.
CEO Clifford Elphick says the results of the initial round of the flexible tender sales process for a selection of large diamonds demonstrates the continued demand for these high-quality diamonds.
"The proceeds raised maintains revenue and cash flow during the current challenges of the coronavirus global pandemic."