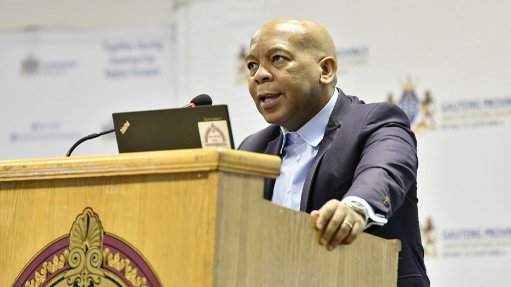 Dr Kgotsientso Ramokgopa
Photo by: Creamer Media's Dylan Slater
Gauteng Economic Development, Agriculture and Environment MEC Dr Kgosientso Ramokgopa on Tuesday said the province continued to experience pressure for further economic development, owing to about 4 000 people moving to the province each week in the hopes of gaining access to better opportunities and prosperity.
This added to the province's existing population of 14-million, he said during a strategic implementation plan engagement event, which aimed to inform the province's growth policy going forward.
The gross domestic product (GDP) growth forecast for Gauteng is 1.72% for this year, 1.69% in 2020 and up to 1.93% in 2023; however, a 5% year-on-year growth rate is needed to alleviate the 31% overall unemployment rate, and 44% youth unemployment rate, in the province.
Gauteng nonetheless remained the largest contributor to South Africa's economic output, contributing 35% to national GDP since 2014.
The Gauteng Department of Economic Development (GDED) had identified four priority areas to grow the provincial economy in the next five years, namely industrialisation and the establishment of special economic zones (SEZs); building a formidable township economy; advancing trade and investment; and inner city revitalisation.
Economic infrastructure to be built over the next five years include the OR Tambo International Airport (ORTIA) Precinct Phase 2, valued at R1.5-billion, and the ORTIA Precinct Phase 3, valued at R1.2-billion.
About 9 346 direct and indirect jobs will be created over the two phases that expand on the ORTIA Industrial Development Zone.
The department also plans on implementing an automotive SEZ in Tshwane to enhance growth for the auto sector, as well as a high-tech SEZ in Bronkhorstspruit.
To position Gauteng as a preferred destination for competitive sports and business events, as part of attracting new, and sustaining existing, demand for tourism, the GDED is increasing bids for mega-events, increasing the promotion of tourism-themed routes and supporting township community-based businesses to contribute to the tourism value chain.
To support township economies, 30% of Gauteng's spend will be ring-fenced for township enterprises going forward, while the GDED will also provide targeted sector support for construction and clothing and textiles, footwear, leather and furniture manufacturing township enterprises.
Additionally, the department will undertake a fibre-to-the-home roll-out through broadband coverage infrastructure installations in all townships.
The Gauteng Department of Agriculture and Rural Development (GDARG) had identified two priority areas to grow the economy in the next five years, which are improved agri-industrialisation and improved market access, and advancing the sustainability and environment agenda.
To this end, the GDARG has allocated R125-million to capacitate 150 agroprocessing small, medium-sized and microenterprises, before the end of the 2019/20 financial year.
This capacitation will also target smallholder farmers who are undertaking on-farm agroprocessing through training for food safety and quality assurance management system concerning food production.
The department aims to develop five agroprocessing facilities in the township hubs, which will be made available to the agroprocessing start-ups and food services entrepreneurs.
The agroprocessing facilities will allow manufacturing in a food-certified environment and the GDARG aims to spend R125-million as part of its medium-term expenditure framework to achieve this.
Action plans to achieve sustainability and environmental protection by the GDARG include formalising the circular economy that has been established by reclaimers in the province, promoting the rollout of electric car grid infrastructure to increase the use and uptake of electric vehicles, rehabilitating illegal waste dumps, rolling out air-quality monitoring infrastructure and finalising the Gauteng City Region Over-Arching Change Strategy and Action Plan.