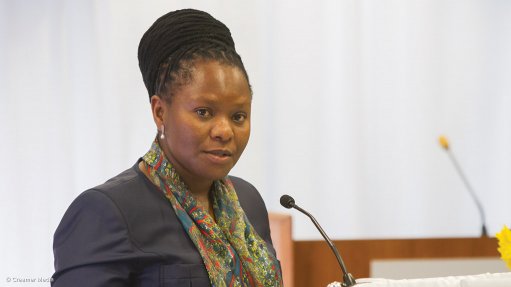 IDC CFO Nonkululeko Dlamini
Photo by: Duane Daws
The Industrial Development Corporation (IDC) reported on Monday that Futuregrowth Asset Management's suspension of lending activities to the State-owned development financier had been lifted with immediate effect.
On August 31, Futuregrowth announced that it was freezing all lending to the IDC, the Development Bank of Southern Africa, Eskom, the South African National Roads Agency and Transnet, citing concerns over governance at the six State-owned companies.
On September 26, the Land Bank announced that Futuregrowth had lifted a lending suspension imposed on it, while the DBSA indicated in late September that it was having "extensive engagements" with Futuregrowth, which had a R5-billion exposure to the bank.
By contrast Eskom lambasted the freeze as "frivolous", while Transnet threatened legal action.
IDC CFO Nonkululeko Dlamini (nee Veleti) said in a statement that the lifting of the suspension followed "Futuregrowth's extensive review of the IDC's governance and investor protection mechanisms".
Dlamini described the due-diligence process with the asset manager as having been "constructive and robust".
"As part of the engagement with Futuregrowth, there were some recommendations regarding enhanced transparency and public disclosures relating to governance structures," she added.
Futuregrowth was one of the IDC's key funders and its support remained critical to achieving its mandate and objectives of supporting growth and industrialisation of the South African economy.
Dlamini also stressed the IDC's commitment to maintaining the highest levels of corporate governance, independence of decision-making and the protection of the interests of its funders.