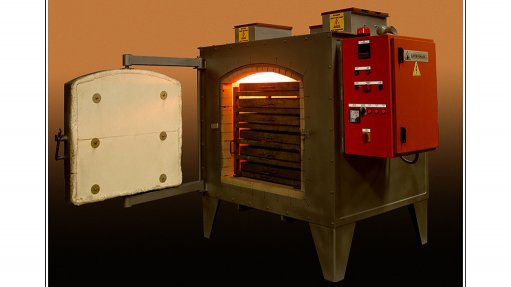 GOLDEN TARGET The company is looking to improve its offering in the local gold sector, focusing on its carbon regeneration kilns and ancillary equipment
Despite unfavourable local market conditions, furnace-related services provider Custom Furnaces South Africa intends to capitalise on a gold price that has been increasing this year.
Custom Furnaces project engineer Nicholas Lucas says the improved gold price has instigated a "rebirth" in the local gold mining sector, as the company will focus on improving its carbon regeneration kiln and ancillary equipment offering.
Locally, the company has been involved in and provided kilns for large local gold miners.
"So far this year, we have been approached to refurbish one of our kilns installed at AngloGold Ashanti's Vaal Reef mine, and to upgrade our kiln installed at Sibanye-Stillwater's Beatrix gold mine," he enthuses.
The refurbishment at the Vaal Reef mine was done to prevent the mine from losing carbon through attrition, as the system was not reactivating the carbon to between 80% and 90% of the activity of virgin carbon in its processes, as per its original design.
The company is employing the same design, but with new components such as changing the lining of the furnace to return it to its original state.
At the Beatrix mine, the kiln is being updated by converting the electrical- fired kiln from strip elements to candle elements.
"As soon as a kiln is turned off, it will now need to cool down for an hour or two before elements can be removed and changed, but without having to strip apart parts of the kiln," Lucas explains, adding that this will help keep the mine operational for longer, reducing downtime.
The company performed a similar upgrade at Beatrix last year, as the mine has two kilns.
However, owing to the struggling local economy, Lucas mentions that much of the company's orders are coming from foreign markets such as North Africa, South America, Australia and Saudi Arabia.
"This has been our main area of business, particularly the carbon regeneration kilns. They're mostly being exported, so we'd like to provide more of these locally."
He points out that looking forward, the company is hoping for the local market to return to a strong position economically.
Covid Impact
Lucas notes that the Covid-19 lockdown has made it particularly difficult for Custom Furnaces to tend to and service mining clients, as safety regulations have reduced the company's ability to be on site.
This has also affected processes, such as providing quotes for clients, as suppliers to the company have been negatively affected and take much longer to discuss pricing structures with Custom Furnaces.
Consequently, the effects of Covid-19 have put many of the projects that Custom Furnaces has tendered for on hold for an extended period.
The company has noted that, with the increase in the gold price, large miners intend to upgrade and leverage their kilns to extend lives of mines.
"We need to ensure that the goods we supply can meet clients' needs. Some clients approach us with a limited idea of what they require, so we help them understand their requirements, needs and application," he concludes.