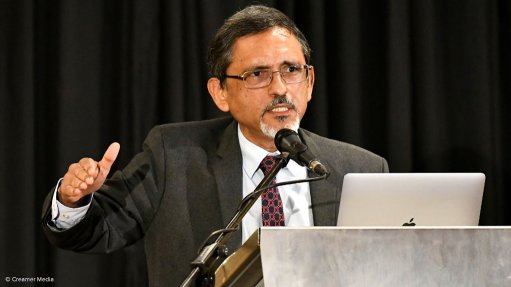 Trade, Industry and Competition Minister Ebrahim Patel
Photo by: Creamer Media Chief Photographer Donna Slater
A new forum comprising Eskom, Transnet and domestic industrialists is to be established to improve collaboration between the two large infrastructure-focused State-owned companies and domestic manufacturers and suppliers.
The initiative was unveiled by Ministers Pravin Gordhan and Ebrahim Patel in their respective Budget Votes on May 20 and comes at a time when domestic industry is warning that inadequate and erratic demand, together with power cuts and collapsing freight logistics, pose a threat to manufacturing entities and their employees.
"Minister Pravin Gordhan and I have agreed to launch a forum to bring together Eskom, Transnet and other entities with industrialists in key sectors to enhance collaboration, advance planning, and problem solving.
"This will enable a better climate for investment and job creation," Patel said, stressing that energy and logistics were vital to the success of the country's industrialisation efforts.
Gordhan added that the forum would foster a better climate for investment and job creation.
Patel also announced that government would prioritise the protection of the electrical grid and rail network from "the continued threat of scrap metal syndicates".
"By the end of July, we will have developed and tabled a draft policy on scrap metal, which will introduce a blend of domestic and export measures to address illegal trade in copper cable and scrap metal."
Ahead of the speeches, Steel and Engineering Industries Federation of Southern Africa president Elias Monage warned that government's industrialisation ambitions would remain a "pipe dream" in the absence of stable and affordable electricity supply.
Speaking at a conference held to assess progress on the Steel Master Plan, Monage said the power disruptions had become particularly challenging for downstream metals fabricators, which were also confronted with rising costs and low demand.
He said low demand, especially from State-owned companies, had emerged as a key threat to many firms.
National Union of Metalworkers general-secretary Irvin Jim even went as far as to describe Eskom, Transnet and ArcelorMittal South Africa as the country's new "triple challenge", traditionally described as being poverty, unemployment and inequality.
Jim argued that their underperformance and pricing policies were leading to the closure of small manufacturing firms and to the retrenchment of workers.
Meanwhile, Solidarity deputy general secretary Marius Croucamp argued that the poor performance of Transnet and the ongoing vandalism of the rail network posed an existential threat to upstream and downstream companies and their workers.
"If Transnet can't deliver, then this industry cannot deliver," Croucamp said, stressing that the solution to the crisis lay outside of the master plan and required government intervention.
Unless addressed, overcapacity would remain, he said, and there would be limited potential for new investment and job creation in the sector.
Patel reported that he planned to convene an extended meeting of the Steel Master Plan oversight committee where these issue could be raised directly with himself, Gordhan, Finance Minister Enoch Godongwana and the infrastructure office in the Presidency.
"Let's sit and just share ideas of what needs to be done and what can be done."