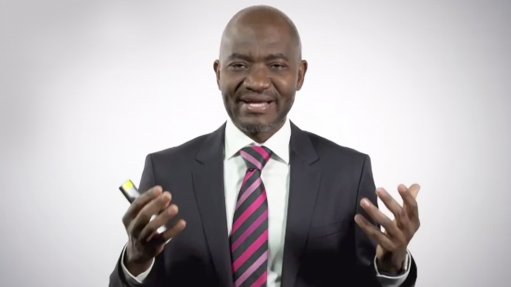 IPP Office head Bernard Magoro speaks during the bidders conference
South Africa's renewable-energy procurement programme, which finally resumed again on April 12 following a seven-year disruption, continues to attract strong interest with some 800 people, including representatives from over 300 registered bidders, participating in a virtual bidders conference on Wednesday convened to focus on the qualifying criteria for participation in the fifth bid window.
Besides attracting over 580 South African participants, including representatives from the Department of Mineral Resources and Energy, the National Energy Regulator of South Africa and Eskom, the conference was also attended by delegates from Egypt, India, Germany, France, Italy, Korea, Japan, China, Singapore, Russia, Ireland and Norway.
During the previous four bid windows of the Renewable Energy Independent Power Producer Procurement Programme (REIPPPP), which involved a total of seven rounds between 2011 and 2014, South Africa procured a total of 6 422 MW from 112 independent power producers and attracted investments of nearly R210-billion.
Of these projects, 76 are currently operational, with those procured during the fourth bid window currently entering into production. These projects reached financial close only in 2018, after Eskom refused, between 2015 and 2018, to enter into new power purchase agreements, claiming a return to a surplus position.
The utility's current leadership is far more supportive of the REIPPPP, seen as crucial to helping close a prevailing supply deficit of at least 5 000 MW, which together with an unreliable coal fleet, has made the system prone to load-shedding.
In 2020, South Africa endured its most intensive year of load-shedding, despite a Covid-linked demand slump, with 1 798 GWh shed at an estimated economic cost of between R80- and 160-billion.
IPP Office head Bernard Magoro told participants to the conference that the fifth bid window, during which 1 600 MW of onshore wind and 1 000 MW of solar photovoltaic (PV) capacity would be procured, represented the start of an intensive procurement phase for the coming 12 months, during which four additional programmes would be launched.
Besides a sixth REIPPPP bid window for a further 2 600 MW of wind and solar PV capacity, which would be opened in August, the IPP Office would open bidding for 3 000 MW of gas-to-power (December), 1 500 MW of new coal (December) and 513 MW of battery energy storage (August).
In parallel, it was aiming to ensure that projects procured under the controversial Risk Mitigation Independent Power Producer Procurement Programme (RMIPPPP) reached commercial close by the end of July. The 2 000-MW programme was facing a legal challenge, however, which could result in a delay.
Magoro said prospective bidders for the fifth bid window had until July 16 to submit final written questions ahead of the August 16 bid submission date.
Preferred bidders would be named in either October or November, with commercial and financial close scheduled for February or March. The projects then had 24 months to enter into commercial operation, or face penalties.
Qualifying wind and solar PV projects could have a minimum contracted capacity of 1 MW, while the maximum contracted capacity would be 140 MW for wind and 75 MW for solar PV.
PASS OR FAIL CRITERIA
The bids would be evaluated using a three-part methodology, with projects proceeding to 'Part C', only if they meet the criteria set out under 'Part A', which includes general requirements and the rules for procurement, and 'Part B', which outlines minimum qualification criteria, including economic development criteria such as meeting local content and broad-based black economic empowerment (BBBEE) thresholds.
Bids that meet the criteria set out in Parts A and B will then be assessed using government standard 90/10 comparative evaluation breakdown, with price counting for 90% and BBBEE contributor status 10%.
The approach differed from the 70/30 price-to-BBBEE formula applied previously under the REIPPPPP and Magoro explained that Part A and B represented a "pass or fail criteria".
"If you don't meet the criteria, you don't go through to Part C."
Besides questions around the technical solutions that would be acceptable and how to secure a connection agreement with Eskom, several participants also raised questions about the local content component of the economic development qualifying criteria.
Thresholds of 40% and 45% for wind and solar PV respectively had been set for local-content spend, while product designations stipulated by the Department of Trade, Industry and Competition (DTIC) would need to be adhered to unless a specific exemption was secured.
The IPP Office confirmed, for instance, that local steel had been designated, even though wind towers were not a designated product.
There was ongoing concern over the capacity to meet designations for solar PV projects.
Currently, locally assembled PV panels, frames and inverters are all designated for local procurement, even though much assembly capacity was lost during the country's seven-year procurement disruption.
The IPP Office told participants that the designations would be enforced unless exemptions were secured from the DTIC.
Controversially, during the recent RMIPPPP bidding process, the DTIC refused to provide any exemption for locally assembled PV panels and frames, but granted exemptions for power ships and grid-tied inverters.
It is understood that those bidders that indicated they could not meet the solar designations were disqualified from proceeding to the 90/10 comparative evaluation.
For the fifth bid window, bidders were also required to demonstrate South African entity participation of at least 49%, and have at least 30% shareholding by black people in the IPPs, as well as 25% ownership by black people and 5% ownership by black women in construction and operations contractors.