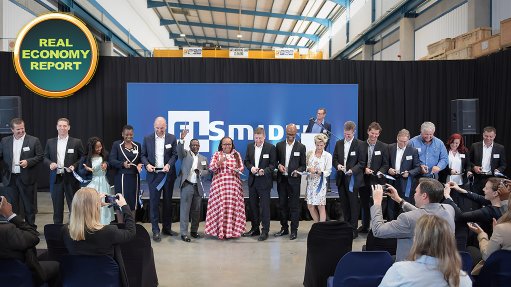 From Creamer Media in Johannesburg, this is the Real Economy Report.
Sashnee Moodley:
Mining and cement equipment multinational FLSmidth has completed a second upgrade of its Delmas facility, which engineers and manufacturers components and equipment for local, regional and export clients. Schalk Burger has the story.
Schalk Burger:
FLSmidth took media and clients on a tour of the upgraded facility in April, and highlighted the technical, manufacturing and engineering capabilities that it has. The expansion increased the firm's local engineering capability to support customers and boosted its global competitiveness.
The 10 500 m2 under-roof facility, in Delmas, in Mpumalanga, has 100 employees and can design, make, maintain and refurbish any FLSmidth original components, assemblies and equipment, as well as design and make specific equipment to meet client's technical needs.
The company's local experts, who can draw on the company's international network of specialists and technology centres, can also retrofit and upgrade clients' equipment at the facility.
New manufacturing equipment includes computer numerically controlled five- and six-axis milling machines and robotic welding machines, which increases the range of items that can be machined on site.
FLSmidth Group CEO Thomas Schulz provides insight into the company's upgraded facility and its role in the group's global operations.
FLSmidth Group CEO Thomas Schulz:
Sashnee Moodley:
That's Creamer Media's Real Economy Report. Join us again next week for more news and insight into South Africa's real economy. Don't forget to listen to the audio version of our Engineering News daily email newsletter.