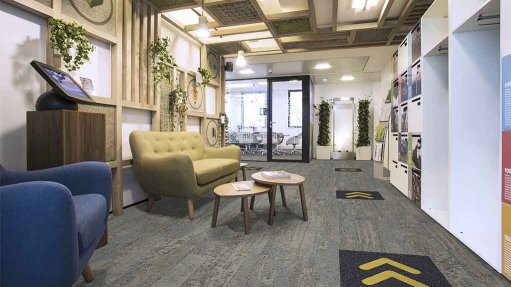 GUIDED STEPS Safe flooring goes beyond demarcations and markings; it should also be environmentally safe and also contribute to the fight against Covid-19
The increasingly important role of flooring and floor coverings in mitigating the spread of Covid-19 has resulted in factories and commercial companies' rethinking their floor covering designs, says floor covering distributor and installer KBAC Flooring.
"Many factories have started to add 'specialised' products to their offerings, which not only implement differentiation for demarcation and social distancing but also contribute to health and safety. Indoor air-quality has become an important aspect for any building design and the onset of Covid-19 has increased the demand for tools that enhance and maintain safe air quality," says KBAC Flooring CEO Brandon Park.
He notes that flooring plays a significant role in assisting with the control of dust, and carpeting is one of the best ways of doing so, provided that strict maintenance policies are in place.
KBAC Flooring has also noted disinfectant matting – which help to sanitise the soles of shoes as people enter a building – entering the market for healthcare facilities.
"There has also been an increased number of vinyl floor coverings in healthcare facilities, as capacities and precautions have been ramped up. In corporate and public spaces, such as gyms and offices, I expect to see safety measures being put in place, regardless of cost, to cope with any issues that might be presented by the pandemic," says Park.
He adds that, in addition to the physical effects caused by Covid-19, people are also suffering from depression, anxiety and loneliness. He believes that interior environments, which includes flooring, can contribute to people's mental health.
"It is interesting to see how design is used to enhance safety while not compromising on the aesthetic of a building. We will see colour and texture used for demarcation purposes to ensure that public movement is done safely and to visibly show social distancing."
Modular flooring, which can be easily changed, is expected to become even more in demand. A loose lay-type product will enable clients to easily change, remove or amend these demarcations, should office requirements be updated or changed.
"Safe flooring goes beyond demarcations and markings. While flooring should also be environmentally safe, it should also contribute to the fight against Covid-19. Even once we have beaten the disease, the impacts of it will continue for a long time to come," concludes Park.