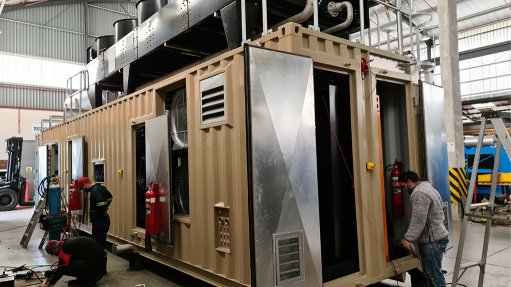 GENERATION OPTIMISATION In addition to cost savings, optimal design for the intended purpose also helps avoid delays in standby power kicking in during power failures for critical operations
Bigger is not always better when considering generators (gensets) and standby power, and it is vital that site-specific power requirements and conditions are taken into account during the design phase of these power supply products, says local manufacturer Zest WEG.
Zest WEG operates a genset manufacturing facility, in Cape Town, and can provide the necessary insight into the design and engineering of custom-made emergency and standby power plants.
Clients run the risk of incurring additional operational costs or having to deal with breakdowns if gensets are not designed and made to function optimally for the intended purpose on site, says Zest WEG electrical engineering team leader Damian Schutte.
Consultancies draft product specifications on behalf of large power users and, with the various departments of these clients adding information along the way, the resultant tender documents often deviate from what the clients require on site or include unnecessary specifications that were pulled from previously completed tender documents, he explains.
This issue is further exacerbated by the situation where tenderers that conform to 90% of the tender specifications are awarded the tender because they are the lowest cost bidder, but the outstanding 10% may be part of the client's original requirements and inflates the price of the rest of the bidders. This results in a solution not fit for purpose.
These companies regularly fail to meet aspects that are crucial to the optimal functioning of a plant, owing to their compromising on quality of service and product in the name of price, avers Schutte.
Consequently, Zest WEG decided to offer a full turnkey solution for clients, from assisting in the design phase of a genset to post-installation upkeep and maintenance.
"Zest WEG can do a full assessment of the application requirements and propose a fit-for-purpose solution, as well as implement full turnkey projects," Schutte affirms.
He tells Engineering News that, in addition to possible plant failures because of suboptimal design, power plant failures mostly occur because of human error, component failures and unintended operation.
Human error can be avoided by implementing solutions with the least amount of human interface required, since a product can often be misused or people may not understand what is required of them during operation or maintenance, he elaborates.
Component failures will always be a risk, but Schutte points out that having solid technical expertise on call is key.
The use of gensets for applications other than they were designed for is a major cause of product failures and clients must remain cognisant of their intended use once the gensets are operational.
Schutte explains that the intended operation of a power system could be for a single large pump, but supplying a large generator due to the inrush current with no other load to accommodate the generator manufacturer's minimum load requirements is a common mistake and can lead to additional diesel costs and void of warranty. In this event a combination solution with a variable speed drive and generator is the better course of action.
Moreover, Schutte says Zest WEG takes the lowest total cost of ownership into account when designing products that are fit for purpose, and these aspects are usually discussed with the client or consultants at the initial stages of a tender.
Some gensets use less diesel and oil, which is a long-term cost saver, while multiple smaller- sized gensets will have a reduced capital outlay compared to some of the larger units.
Zest WEG also considers site conditions, such as location. Grouping all the power plant equipment in one container system, for example, can save on installation and civil works costs for a client in a remote area.
"We have a full team capable of going out to site and determining the necessary site loads and conditions and advise accordingly," Schutte highlights.
In addition to cost savings, optimal design for the intended purpose also helps avoid delays in standby power kicking in during power failures for critical operations, such as mine slurry pumps, or even hospitals, as end-users cannot afford delays in critical infrastructure simply because a generator was not designed for immediate load upon startup.
Case in Point
Zest WEG had to consider space constraints when it designed a large diesel-powered generator, due for delivery before the end of the year for a South African platinum miner.
The company reported that this 11 kV, 2 500 kVA genset was one of the largest units to be fully load-tested at the company's genset manufacturing facility.
Based on the client's available space, the genset had to be housed within a 12 m shipping container, with an electrically driven radiator mounted on the roof.
As one of the few original-equipment manufacturers (OEMs) capable of undertaking the manufacturing of such a customised genset of this capacity, Zest WEG will also supply the control and protection panel from its extensive range of electrical equipment and products.