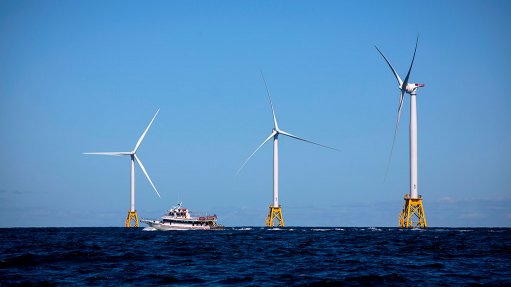 OFFSHORE WIND FARM The Block Island wind farm is a landmark project in the US renewable energy market
Photo by: Bloomberg
Digital industrial company GE unit, global energy financial solutions provider GE Energy Financial Services, and global bank Citi, announced earlier this month, the closing of tax equity financing on offshore wind and transmission developer Deepwater Wind's Block Island wind farm, the first offshore wind farm in the US.
Deepwater Wind chairperson and global investment and technology development firm DE Shaw & Co MD Bryan Martin comments that an innovative project takes thoughtful and hard-working partners to navigate all of the first-mover considerations.
"We're very proud that two US companies have chosen to invest in America's first offshore wind farm. Their support is a testament to the significance of this project and the strength of the American offshore wind industry," asserts Deepwater Wind CEO Jeffrey Grybowski.
Moreover, he details that Deepwater Wind completed construction on the 30 MW Block Island wind farm in August, and commercial operations are expected to begin in November. The role of the DE Shaw group, principal owner of Deepwater Wind, remains unchanged with the addition of the two tax equity investors.
GE Renewable Energy is the project's turbine supplier, providing the five 6 MW Haliade wind turbines for the wind farm, which is located about three miles off the coast of Block Island, Rhode Island.
GE Energy Financial Services renewables MD Kevin Walsh explains that the Block Island wind farm is a landmark project in the US renewables market that GE is proud to support with capital investments and advanced wind energy technology.
"Citi is proud to partner with GE, DE Shaw and Deepwater Wind to support this innovative project. The Block Island wind farm offers a great example of Citi's commitment to sustainable growth and to financing the development of clean renewable-energy infrastructure," comments Citi global alternative energy finance head Marshal Salant.
Salant notes that the landmark transaction contributes to Citi's 2015 announced goal to lend, invest and facilitate a total of $100-billion over ten years to activities that reduce the impacts of climate change and create environmental solutions that benefit people and communities.
He adds that, in addition to the turbines, GE Renewable Energy's offshore wind business is providing long-term services and maintenance for the project. "The Block Island wind farm is GE Energy Financial Services' second offshore wind investment this year, building on the company's $12-billion renewable-energy investment commitments in more than 18 GW of wind and solar projects," Salant concludes.