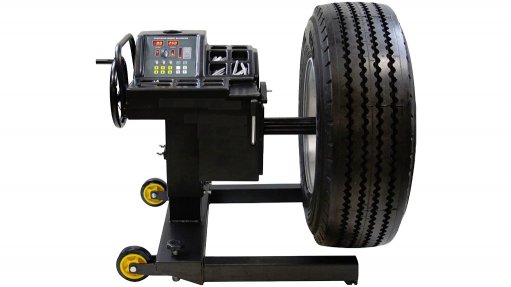 BALANCING ACT The mobile XTB1200 truck wheel balancer allows for on site balancing
First-time exhibitor workshop and fitment centre supplier Integrated Marketing will showcase a range of its products to the truck and fleet management industries at this year's TruckX expo at the Kyalami International Grand Prix Circuit and Conference Centre, in Gauteng, on July 11 and 12.
"The Bright XTB1200 mobile truck wheel balancer accurately balances wheels from 12" to 30" in diameter. The electronic, battery-operated wheel balancer assists the trucking community in balancing truck tyres on site, which saves time and money for the truck owner," says Integrated Marketing technical and marketing representative Fred van Zyl.
He adds that the company will also display its 1" impact wrench to loosen wheel nuts, nitrogen tyre-inflating machines, and Gaither bead bazookas for quick tyre seating. The tool set is used as a set to remove and fit a tyre to the rim quickly and efficiently, and can be operated by any person, adds Van Zyl.
Integrated Marketing is the sole distributor of the Gaither bead bazooka in South Africa and Southern Africa, and it will be displayed with the tool set at TruckX. The bazooka assures that a tyre is seated correctly on the rim, minimising the risk of a violent separation (tyre explosion) when the tyre is inflated.
Integrated Marketing imports its workshop brands directly from the original-equipment manufacturers, giving the market quality products at competitive rates. Based in Centurion, and through a dealer network across Southern Africa, the company supplies any size workshop and fitment centre for the trucking and commercial vehicle industries.
Integrated Marketing is also a direct importer and supplier of (Bright) tyre changers and wheel balancers by Corwei, a subsidiary company of Corghi in China, as well as three-dimensional wheel alignment machines by automotive machine manufacturer Lawrence from China.
It also supplies Integrated Marketing's house brand IM Winners lifts in two- and four- post configurations, including mid-rise lifts and low-level lifts – operated by electro-hydraulic power supplies.
For hydraulic jack requirements, Integrated Marketing has floor, bottle and transmission jacks available from automotive jack developer Winntec, based in the Netherlands.
Van Zyl says, with nitrogen demand increasing and its mandatory use in the mining sector, Integrated Marketing also offers nitrogen generators and preset tyre inflators from nitrogen generator suppliers Priman.