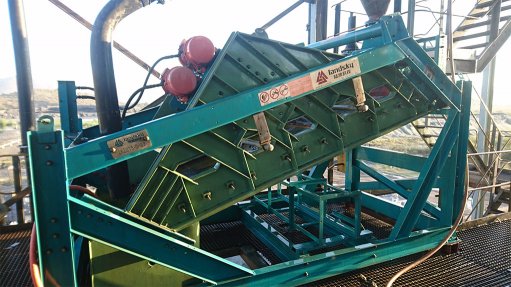 TESTED UNIT 12t/h test unit which is currently being used on a Chrome Plant
For the first time since the establishment of bauma CONEXPO AFRICA, high-frequency fine-screening equipment designer, manufacturer and supplier Landsky will showcase its products to industry leaders and high-profile buyers in Southern Africa.
Landsky fine-screening equipment for the beneficiation of mineral ores is used for applications handling material from 2 mm to as small as 63 µm using polyurethane panels. The company undertakes testwork for potential clients to prove the viability of fine screening.
Landsky uses a 12 t/h production test unit that allows clients to test the efficiency of the machine on actual process streams, in the real application context. This allows the determination of high confidence optimum operating points that inform process design. Most importantly, conducting testwork in this way demonstrates the robustness of the machine and wear parts before taking it into full-scale production.
"Exposing these fine-screening machines to industry leaders attending bauma CONEXPO AFRICA will expose Landsky to new opportunities into the market and industry," says The HeadRoom Initiative process metallurgist Craig Sweet.
He notes that Landsky worked on a number of fine-screening projects throughout South Africa, which enables the respective production teams an opportunity to test alternative application points of the fine-testing machine. "The operational team is afforded the opportunity to be creative and consider applications that could benefit overall process efficiency, beyond the scoped application that motivated the initial test programme."
bauma CONEXPO AFRICA is expecting 400 exhibitors and 20 000 visitors, with Landsky forming part of the Greater China Pavilion exhibitors. The objective of the third edition of the trade fair is to enable exhibitors to showcase innovation and technical expertise from their countries, while providing them with a space to network and communicate with various international industries.
"In addition to a working 1:10 scale model of our five-deck multideck screen that will be on display, we will also exhibit our latest polyurethane panels," says Landsky Africa director Udo Busch.
Polyurethane screening panels are unique because of their light weight, longer life span, large open areas and cost effectiveness. These screening panels were designed to complement and adjust to the client's fine-screening requirements.
Panels have been supplied and are successfully used on a number plants not only in South Africa but also Mozambique and the Democratic Republic of Congo.
Landsky has participated in international versions of the event, including the bauma CONEXPO in Shanghai, China, and at exhibitions in Beijing, China; Sydney, Australia; Belo Horizonte, Brazil; Toronto, Canada; and in Arequipa, Peru.