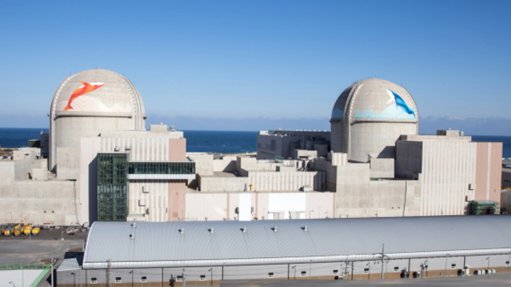 The Shin Hanul NPP
Photo by: KHNP
South Korean company Korea Hydro & Nuclear Power (KHNP) announced on Monday that the first reactor at its latest nuclear power plant (NPP) had achieved criticality for the first time. Unit 1 at the Shin Hanul NPP reached this operational milestone on Sunday.
"In the future, Shin Hanul Unit 1 plans to produce electricity for the first time early next month after undergoing a performance test of the power plant system with safety as the top priority," affirmed KHNP in its statement. The reactor has a generation capacity of 1 400 MWe.
Shin Hanul 1 is a South Korean designed and developed APR-1400 pressurised water reactor, with a design life of 60 years. The APR-1400 is an evolutionary development of the 995 MWe capacity OPR-1000 reactor, which South Korea adopted as a standardised design, building 12.
Internationally, the APR-1400 design was approved in Europe in late 2017 and in the US in 2019. The first two APR-1400s to enter commercial operation are those at the Shin Kori NPP, where they are Unit 3 and Unit 4. Unit 3 started commercial operations in December 2018, with Unit 4 following in September 2019.
The APR-1400 has also been chosen by the United Arab Emirates, for the four reactor Barakah NPP. The first two units at Barakah have been commercially operational since August 2020 (Unit 1) and September last year (Unit 2).
Two other APR-1400s are currently under construction in South Korea, also at Shin Kori, where they will be Unit 5 and Unit 6. Construction of Unit 5 started in April 2017 and it is expected to be commissioned in March 2023. Unit 6's construction commenced in September 2018 and it should be commissioned in June 2024.
The two reactors at Shin Hanul, however, suffered from various delays and it has taken ten years (from ground breaking, in May 2012) for Shin Hanul 1 to become operational. The original plan had been for it to enter service in April 2017.
With the recent election of a new, and explicitly pro-nuclear, President in the Republic of (South) Korea, there is speculation in the country that the construction of another two APR-1400s at Shin Hanul, Unit 3 and Unit 4, will be authorised to restart. This would allow the country to keep the share of its electricity generated by nuclear at the current 30%.