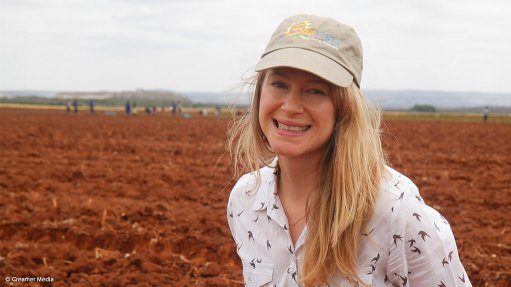 Sunchem South Africa project manager Samantha Hampton
South African seed selection for research and development company Sunchem's solaris crop – a nicotine-free tobacco variety that yields significant amounts of sustainable oil for biojet fuel feedstock – has started taking place locally for the first time since the launch of Project Solaris in 2014.
"Solaris is an Italian crop and, up until now, all of the seed selection was done in Italy," Sunchem South Africa project manager Samantha Hampton told Engineering News Online during a site visit to Project Solaris in Limpopo, South Africa, on Friday.
Solaris is the first crop in the region to achieve certification by the Roundtable on Sustainable Biomaterials (RSB). The international organisation sets criteria for sustainable biomass production and conversion and is the best-in-class in the field, having also received widespread support from the aviation industry.
She explained that the seed had been selected to get the variety that would produce the best yield.
"It makes sense to bring the seed selection to South Africa, as it will help the crop thrive in the South African climate, which is drier than conditions in Italy," she said.
Hampton further pointed out that the tobacco plant is semi drought resistant, making it useful for planting in marginal soils and in areas where rainfall is low.
"Initially, when the project was launched, we wanted to prove that we could successfully grow this crop in South Africa, as well as process it and fly with it," she said, noting that the initial objectives had been achieve but that, as it is a small-scale project, most of the processing had been outsourced.
The result of the first harvest was put towards producing aviation fuel for the first biofueled flight in Africa, which took place in July in conjunction with South African Airways.
Meanwhile, Hampton explained that the long-term goal of Project Solaris was to set up a local biojet fuel refinery in South Africa to enable the full value chain to take place locally as there were no biojet fuel refineries in the country.
"There are different ways that scaling up can happen. Given that our crop is mostly a feed crop, and the oil is a bonus, we can actually turn the whole crop into animal feed to increase volumes and reach capacity to fill a local refinery," she said.
She added that upscaling would need to happen in an organic fashion, as increasing the property from 50 ha to 40 000 ha a year would not be viable.
Hampton further noted that it would also be possible to divert oil to the local biodiesel industry.
"There isn't a lot of clarity from government regarding a biofuels programme in terms of the road transport sector. However, it could be a mechanism to scale up, because biodiesel can be made in South Africa today," she said.
She added that, to grow Project Solaris, a partnership between the public and private sector was crucial.
"The construction of a local refinery will meet government's objectives for rural economic development, job creation and localised manufacturing. We can walk that road together with government and get there, but this cannot happen overnight."
She further pointed out that Sunchem was currently in talks with various government departments, as well as the Industrial Development Corporation, for funding.
DROUGHT
Hampton noted that last season was tough for many farmers in the area and that a large percentage of farmers' crop yields was lost owing to the ongoing drought currently facing the country.
"Solaris is a hardy crop. Our yields were about 50% lower last year, but our crops survived," she said.
Hampton noted that, while extreme weather events were becoming more prolific, owing to climate change, there would always be "an El Niño year or two" at the Solaris Project, given the history of the area where the Solaris crop is grown.
"Farming is a five-year exercise; you get a year or two where drought is prevalent and then three years usually make up for it. We're not worried that the drought might be a disaster for our project, but it's tough for our farmers," she concluded.
Also commenting on the drought RSB southern African regional representative Arianna Baldo said that RSB is the only sustainability standard that does not limit its scope within the boundaries of farms.
"Certified operations must assess their impact on the quality and quantity of surface and ground water resources, developing plans to use the water efficiently and without affecting neighbouring farms and communities," she said.