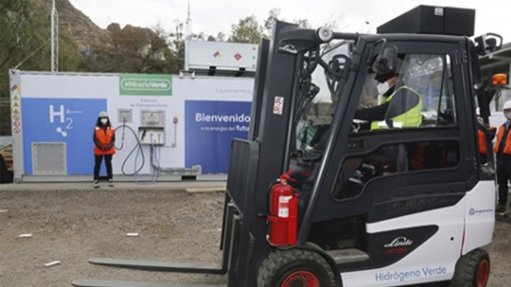 HYDROGEN STATIONS Using a hydrogen generator module, a fuel cell is fed to provide clean energy to a forklift crane
Diversified major Anglo American last month announced its Chilean copper business making history by commissioning the country's first green hydrogen station for zero carbon vehicles. This is another step towards achieving carbon neutrality by 2030 as a part of Anglo's Sustainable Mining Plan targets.
Located at the Las Tórtolas flotation plant, in the Colina region of Chile, the new station has generated the country's first green hydrogen molecule for electromobility.
Using a hydrogen generator module, with a production capacity of 2 kg of hydrogen a day, a fuel cell is fed to provide clean energy to a forklift crane, in addition to a stationary fuel cell, which reinjects energy to the local grid.
The launch of the initiative took place the week of August 23, at Las Tórtolas, with Anglo American Chile CEO Aaron Puna, Anglo Chile's corporate affairs, permits and environment VP René Muga, Chilean President Sebastián Piñera and Mining and Energy Minister Juan Carlos Jobet in attendance, among others.
"We want Chile to be a leader in the transition towards clean and innovative mining of the future. The incorporation of green hydrogen in the industry, a zero-emission fuel, is essential to achieving that change.
"Today we see how mining companies are already piloting its use in their work and the challenge is to generate the conditions to scale these projects and promote the development of new initiatives. In this way, we see how the energy and mining sectors are more complementary than ever. They come together to contribute in the fight against climate change, through green hydrogen, which will allow us to reduce our emissions by more than 25% and will be a key axis to achieve carbon neutrality by 2050," Jobet said at the time.
"As a company we want to contribute this agenda, with pioneering initiatives such as this which also drive us to reach our goal of carbon neutrality by 2030. The [ . . . ] project is a clear sign of the long-term commitment we have with the country and with the development of an activity that generates value," explained Puna.
Anglo American is developing the world's first mining truck to use hydrogen as fuel, with a view to introducing this technology to Chile within two years.
The company is also a founding member of the World Hydrogen Council, which seeks to strengthen the role of hydrogen in a future green economy and supports the research and demonstration of technologies associated with hydrogen in the implementation of projects.