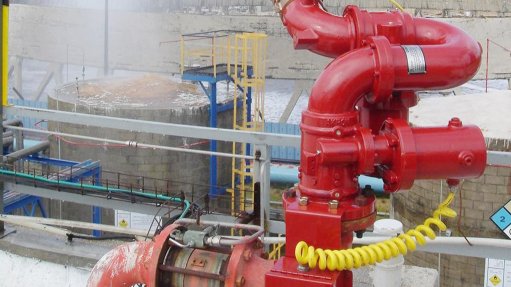 FIRING POWER The Akron Conquest electric remote-controlled fire-water monitor system has a row distance of about 95 m with a fog and stream water-shape capability
Cape Town-based fire- protection technology provider DoseTech Fire aims to complete the installation of a fire protection upgrade system at the Cape Town harbour's fuel tanker unloading wharf by the end of this year, says company MD Mike Feldon.
The order, received in June from Cape Town harbour, involves the supply of nine Akron Conquest electric remote-controlled fire-water monitor systems – the largest Akron order from Southern Africa to date.
The Akron systems use a foam, or a synthetic foam and water mixture, and the remote-controlled capabilities can be custom-built to suit customer requirements.
"Some of the advantages of using these monitors include reliability and performance, such as a row distance that will be about 95 m and a fog and stream water-shape capability, as well as wide-angle fog to form a water wall," emphasises Feldon. He notes, however, that the discharge capability of the Akron fire-water monitors will depend on customer requirements, adding that the company matched the Cape Town harbour's specific technical requirements.
Further, DoseTech Fire will supply a seawater FireDos FD20000 dosing pump capable of dosing both 1% or 3% foam concentrates to the harbour, as well as 25 James Jones wet barrel fire hydrants, which come with a ten-year warranty.
The Jones fire hydrant features two 65 mm outlets for hand-line hoses and a 4" pumper connection, all with individual integral valves that can close each outlet on the hydrant without the user having to shut the hydrant to make adjustments.
Petrochemicals Protection
DoseTech Fire last month delivered the largest order to date of the FireDos FD20000 foam-dosing pump to a fuel storage facility in Gauteng. The water-driven, turbine pump does not have external power connections, therefore, operating as a self-contained unit.
DoseTech Fire provided the two large pump units for the main fuel storage areas and two small units for a lower-risk area.
"The FireDos range, which includes the first vertical units manufactured by Germany-based manufacturer FireDos, can dose either at 1% or 3% foam concentrate," Feldon says, adding that the pump system will pump at a rate of 200 ℓ/min at 1% foam concentrate and 600 ℓ/min at 3% foam concentrate.
He explains that the foam- dosing systems can be used with most extinguishing agents and concentrates, which are housed in an unpressurised, atmospheric tank or container, adding that these can easily be refilled, even during the fire extinguishing process.
This enables the user to replace the extinguishing agent or use another product without any interruption.
Prior to the delivery of the FireDos FD20000 in Gauteng, DoseTech Fire accepted the FireDos FD20000 at the FireDos manufacturing plant in Wölfersheim, Germany, in June, with the customer's European representative.
"Adding to the achievement of this particular project was the opportunity to be the first FireDos customer to test their equipment on the new FireDos test facility, which has an operational capacity of 30 000 ℓ/min," says Feldon.
Fire-Protection Offering
DoseTech Fire has, to date, supplied five of the FireDos FD20000 systems to various operations across South Africa, while about 170 other FireDos units have been supplied as well.
Further, the company has been supplying fire-protection hardware, including the FireDos foam-dosing systems, to petrochemicals companies across Africa since 2000.
DoseTech Fire's services include specifying and supplying equipment to new and modified systems and technologies to suit clients' specific needs. The company also offers on-site commissioning, full service support and staff training for its FireDos foam dosing systems, Akron monitors, Akron hand-held nozzles, James Jones hydrants and Johstadt portable fire-water pumps.
DoseTech Fire is also the accredited service centre for FireDos and Mueller/James Jones.
Moreover, in September, Feldon will travel to Akron, in Wooster, in the US, to become certified as the accredited service centre for Akron products in Africa.
Fire Education
To continue enhancing industry's knowledge of fire protection, Dosetech Fire, in conjunction with fire consultant and adviser Dr Niall Ramsden, will present a fire-hazard management workshop in 2016 for fuel-storage companies, refineries, fuel tank owners and fuel pipeline project personnel.
These workshops will highlight fire protection at large flammable-liquid and flammable-gas storage facilities, as well as oils, fuels, alcohols and solvents storage.
"The workshops will also cover fire-hazard management for natural gas and liquid petroleum gas use, highlighting discussions on foam types and equipment used, such as pump systems, fire- water and foam monitors, as well as design-type requirements and procedures," concludes Feldon.