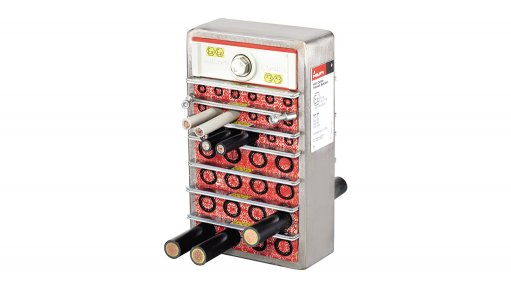 CABLE TRANSIT SYSTEM This system is designed as a modular system
The quality of installation of passive fire protection systems and the levels of fire safety awareness locally leave much to be desired, prompting construction industry supplier Hilti South Africa to place sig- nificant emphasis on providing high- quality training programmes for its staff and clients.
"These programmes are to ensure that our staff workmanship is of the highest standard," Hilti South Africa field engineer Sibusiso Khumalo tells Engineering News.
He says the current state of fire protection procedures is such that many buildings are exposed to excessive damage and the rapid spreading of a fire once it starts.
Khumalo adds that the main challenges that the fire prevention and protection industry faces are awareness and skills devel-opment, which is why he believes the quality of some installations is far below acceptable industry standards.
Further, he says Hilti South Africa prides itself on skills development for specifiers and contractors for its Firestop product range, which is supported by the Hilti South Africa sales force and a specialist engineering team. The team's qualified personnel can offer design function advice, complete on-site support, surveying, installation training, standard details and engineering judgments.
Khumalo believes that fire safety should be a major concern for those who are responsible for the design, specification and installation of new buildings, as fire may be caused by various unpredictable occurrences, which are often outside the control of the designers.
He says what can be controlled, however, is the effect of fire once it starts.
"The control of fire in buildings, industrial plants and mines is normally affected by a combination of two fire prevention systems – the active and passive fire protection systems," Khumalo explains.
He highlights that the continuously increas-ing efforts with regard to awareness, training and education, as well as the regulation of fire safety by organisations, such as the Fire Protection Association of Southern Africa, are vitally important.
"Some private-sector companies are also playing a crucial role with regard to awareness and skills development in fire protection. The Firestop systems provide wide-ranging solutions for virtually any building layout," states Khumalo.
"Innovative products, such as the Hilti South Africa cable transit system that is designed as a modular system to protect cabling in the event of fire, have been constantly entering the market," he says.
Khumalo notes that Hilti South Africa's cable transit system is fire resistant and comprises a gas, watertight basic module, a module adapter and core module, which not only seals around cables quickly and reliably but is also reusable.
"Hilti South Africa also has a building information modelling library, which saves designers and specifiers time, as they can download two-dimensional and three-dimensional models," he concludes.