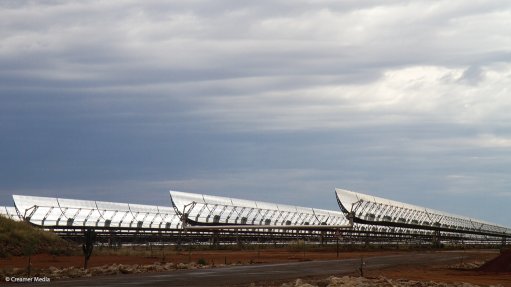 Less than 30% of renewable energy projects in Africa reach financial close, with the development process highlighted as the riskiest part of the development cycle, according to advisory firm Castalia Africa practice leader Patrick Longmire.
"Renewable energy project development is expensive and the amount of capital [required] for different projects varies from country to country and from project to project," Longmire said, speaking at the Power-Gen Africa conference in Sandton, Gauteng, on Tuesday. He added that utility-scale project costs started at around $1-million and could cost as much as $2.5-million.
Longmire noted that a key challenge for renewable energy project developers was that the market for project development capital in Africa was inefficient and finding investors was difficult.
"We have put together a database of 600 participants who are interested in renewables projects in Africa and there are 160 different people and companies that we found who want to finance these types of projects on the continent," he said.
Strategic investors include equipment vendors, engineering, procurement and construction managers (EPCs) and large multinational corporations, who offer different financial structures and options.
"They want to do something other than invest; they want to own megawatts and EPCs want contracts," he said.
Longmire added that the largest group of these types of investors came from Europe, followed by North America, Asia and Africa.
He said that solar energy projects were the most popular when it came to financing, followed by wind energy, thermal energy, biomass and geothermal energy projects.
"If you are developing a solar project, there will be more appetite for investor capital."
He stated that co-developers wanted to develop their own priorities, but needed a local partner, adding that they provided development capital.
"Development finance institutions tend to want to provide long-term financing for projects," he said, adding that there were many grants available for renewables project in Africa, and that they ranged from $100 000 to over $1-million.
"Grant providers have specific criteria based on the country they are operating in, the expertise they are dealing with, the stage of development and the objective of the project," he said.
It was important that the grant was a good match with a specific project's sources, he added, explaining that projects tended to go through a long and complicated process to secure grants.
Longmire also noted that grants only covered a certain percentage of a project's activities.
"Private equity funds tend to come in at the financial close of a project. However, they seemed to have learned that to be part of that financial close they will need to get on board earlier," he said.
Longmire highlighted that renewable energy project developers had an asset with value and should be selective of who they brought on board.
He said that there was a lot of development capital available for reasonable projects, but that the market was inefficient.
"It's a seller's market and developers should be very picky," he said.
Commenting on best practices for renewables in Africa, consulting services company Mazars partner David Donnelly said that affordability and bankability were key to making projects happen.
"Countries contemplating renewables look at it from a current cost-of-power point of view, focusing on how it fits macroeconomically in terms of fiscal arrangements and regulatory frameworks for the sector," he said.
He added that investors needed to understand what were commercially viable propositions and what were attractive propositions.

"Resolving the tension between those two key issues will create a sustainable and robust project that will create value for the end-user," he said.
Donnelly added that projects needed to take place in a well-regulated framework and that power generation and renewable generation had to be connected to a network, which was costly.
He highlighted that a legal framework that permitted private-sector generators and independent power producers to sell their electricity to the grid was important.
"The suppliers of electricity are usually State-owned," he said.
Donnelly noted that once that was in place, it would be possible to craft a renewables regime around that specific framework to permit renewable technologies to come onto the grid.
He added that it was critical for offtakers to be financially robust, or the revenue stream or the project would not be bankable.
"A good regime and a controlled financial environment allows projects to become bankable and allows for people to enter into power purchase agreements," he said.