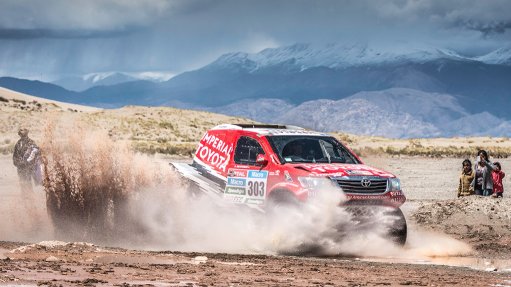 TRAPPING DUST PowerCore technology was integral to the success of the South African Toyota Imperial team, which competed in the 2015 Dakar Rally
Integrated filtration solutions supplier Donaldson Filtration Solutions will next year start manufacturing its PowerCore dust collectors at its Alrode facility, in Johannesburg.
PowerCore technology is currently imported from Europe, where it has been available to the international market for over five years; however, it was officially launched in South Africa in 2015.
The technology was developed at Donaldson's US headquarters initially for application in the engine market, but it was subsequently adapted to suit industrial air filtration.
PowerCore filter packs combine Donaldson's proprietary Ultra-Web nanofibre technology with its media configuration expertise. The result of this combination is a fluted filter pack with a unique filtration technology, says the company.
The technology offers size reduction and geometric flexibility to deliver high filtration efficiencies and solutions for industrial dust collection. It can also be applied across a range of industries, including the mining, cement, tobacco, food, and pulp and paper industries.
"The PowerCore filter pack is small, lightweight and can be easily handled by one person. The technology allows for a more effective filter area to be packaged in a smaller space – a 178 mm × 559 mm PowerCore filter pack pro- vides a filter area equal to six 2.4-m-long traditional filter bags," explains Donaldson Filtration Solutions South Africa marketing manager Cameron Diesel.
He tells Engineering News that the filter pack contains the Ultra-Web nanofibre technology, which traps dust on the surface of the fluted channels, compared with conventional filter bag material, which is based on depth filtration. This results in 78% fewer emissions, compared with those emitted when using a bag media, which is less than 5 mg/m3.
Compared with traditional baghouse collectors that have similar airflow capacities, the PowerCore CPC series of dust collectors is between 50% and 70% smaller than conventional-style baghouses.
Diesel notes that, owing to the design and configuration of the unit, no tools are required to open or replace the PowerCore packs, making maintenance easy and safe. The packs are replaced from the clean air side and not from the dirty air side, as is the case with some bag filters.
Africa Focus
Diesel tells Engineering News that the company is transitioning to focus on furthering its African growth, which involves determining how best to increase the supply to African countries and establishing engineering and distribution partners to service those markets.
Donaldson, which recently celebrated its global centenary, already has an African footprint that extends well into sub-Saharan Africa.
"Exciting things are happening in African territory and our new mindset is to approach the continent holistically, market by market and country by country," Diesel explains.
To date, the company has had to prioritise its efforts in specific countries based on a thorough knowledge of those markets, owing to the size and diverse cultures of, as well as the risks associated with, Africa.
Dakar Selection
Toyota elected to use the new PowerCore range of Donaldson filtration products when it competed in the 2015 Dakar Rally, says South African Toyota Imperial team principal Glyn Hall.
He says effective filtration played a key role in the team's success in South America.
"It was paramount for us to achieve maximum airflow through the smallest, most effective air filter possible for our Dakar vehicles, rally cars and cross-country bakkies," notes Hall.
He adds that the decision to use PowerCore was influenced by the space limitations that did not allow for the use of more cyclonic filtration systems in the vehicles.