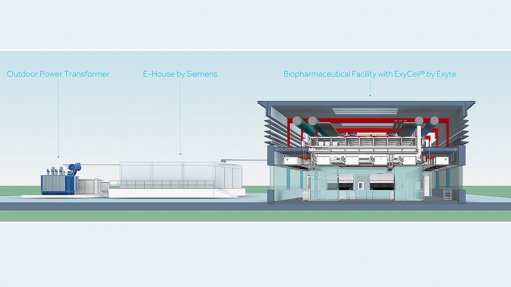 Model of a biopharmaceutical facility consisting of pre-configured ExyCell modules and an integrated power supply by Siemens
The Covid-19 pandemic poses major challenges for pharmaceutical companies, specifically related to the development and mass-production of new vaccines and medicines in existing production facilities.
A new partnership between Siemens and Exyte aims to offer end-to-end solutions for the biopharmaceutical industry. The two companies offer standardised, turnkey solutions compliant with current Good Manufacturing Practice and Good Automated Manufacturing Practice that are specifically designed for the needs of biotechnology manufacturers, as well as cell and gene-therapy manufacturers.
"We are excited to collaborate with Exyte to provide pre-fabricated, modular biotechnology solutions with our technology already embedded. As a market leader for the pharmaceutical industry, we offer know-how for process automation with our Simatic PCS 7 and WinCC automation platforms, as well as power supply and fire protection for modular cleanrooms," enthuses Siemens.
Currently, the first buildings with Siemens' technology and ExyCell modules are being designed for cell and gene therapy manufacturing and biologicals production in China and Europe.
Exyte states: "Our partnership with Siemens enables us to pre-integrate Siemens' technology into ExyCell modules, thus offering clients end-to-end solutions for their facilities. Our collaboration allows our clients to reap the benefits of Industry 4.0 without the necessity of engineering them from scratch each time, thus saving them time and money. ExyCell modules are suitable for new buildings as well as for the retrofit of existing buildings, and can be provided either in standard, off-the-shelf plant configurations, or modules that can be combined to meet specific customer requirements."