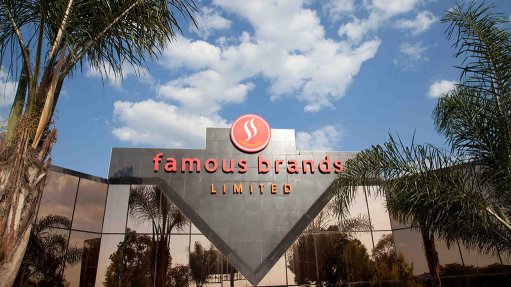 Famous Brands' office building
JSE-listed Famous Brands expects its results for the six months ended August 31 to show a marked recovery on the comparative period in 2020, despite continued Covid-19 impacts on its trading markets.
The company represents quick-service restaurant (QSR) and signature food brands in South Africa, the rest of Africa and the Middle East (AME) and the UK.
Some of the brands include Steers, Fishaways, Wimpy and Debonairs, while the signature brands include Mythos and Lupa Osteria.
Famous Brands has warned that the civil unrest experienced in July in South Africa, coupled with the third Covid-19 wave of infections in the country at the time of review, will impact on the financial performance of this market.
The company says 99 of its stores were closed amid the civil unrest, with the majority of closures in KwaZulu-Natal, but its business continuity plans have minimised the operational impact of damages.
In South Africa, Famous Brands' system-wide sales increased by about 76% year-on-year, while like-for-like sales increased by about 72%, in the leading brands segment.
The signature brands segment recorded system-wide sales growth of about 36% year-on-year, while like-for-like sales increased by about 149%.
System-wide sales increased by about 15% year-on-year in the AME region.
The company has reported that its supply chain business, which encompasses manufacturing and logistics, reported increased revenue of about 65% for manufacturing, and 74% for logistics, compared with the six months ended August 31, 2020.
Famous Brands will issue an updated trading statement soon, while its results will be published on or about October 27.