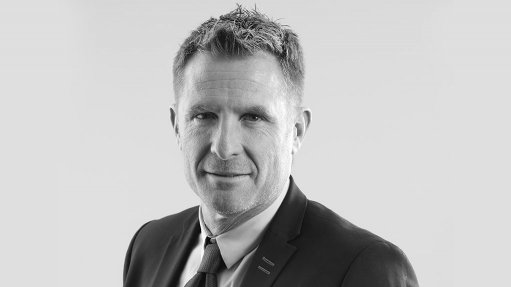 Fairvest CEO Darren Wilder
JSE-listed real estate investment trust (Reit) Fairvest Property Holdings, in its results for the six months ended December 31, 2020, noted strong improvements in property fundamentals and a solid 7.2% increase in distributions compared with the first half of the 2020 calendar year.
The company declared a dividend of 10.59c apiece for the six months under review.
However, compared with the six months ended December 31, 2019, distributions had decreased by 5.1%.
Fairvest declared a 11.1c apiece dividend in the prior comparable six months.
The company's total property revenue increased by 2.3% to R274-million year-on-year, as a result of income growth in the historic portfolio and acquisitions in the latter half of the previous financial year, offset by the disposal of Tokai Junction for R180-million.
Net profit from property operations increased by 4.6% year-on-year to R176-million.
Fairvest reported that expenses were well contained, assisted by significant solar savings at properties, but countered by the effect of rental concessions provided to tenants, as well as the substantial increase in the provision for expected credit losses on rental billed during the Covid-19 lockdown period.
The Fairvest property portfolio comprises 43 properties covering 250 911 m2 of gross leasable area (GLA), valued at R3.4-billion.
On a like-for-like basis, the historic portfolio's value increased by 3.4% compared with the previous year.
Capital expenditure (capex) of R12.5-million was incurred in the six months under review and a further R14.9-million was invested in solar installations, with 16 sites now completed and generating savings to the value of R5-million.
Installations at eight further sites will start during the fourth quarter of the financial year, with a further R14.2-million of capex committed.
Fairvest CEO Darren Wilder said in the company's results release that, given the uncertainty in the current market, a conservative approach was maintained with the valuation of investment property.
The weighted average exit capitalisation rate used remained unchanged at 10.3% compared with June 30, 2020, while the weighted average discount rate also remained unchanged at 14.8%. These conservative metrics continue to show prudent but fair valuations.
Moreover, Wilder said Fairvest's specialist, niche positioning of smaller neighbourhood centres with grocery-anchored assets and an emphasis on essential shopping, coupled with a hands-on management team, has been more resilient during the Covid-19 pandemic.
He added that the company recovered without significant increases in vacancies, while tenants unable to trade during lockdowns represented less than 3.5% of monthly billings.
Fairvest's vacancy rate as at the end of December 2020 was 3.8%, compared with 4.5% at the end of June 2020 and 3.2% in December 2019. Particularly, the retail vacancy rate stood at 2.9%.
During the six months under review, 101 new leases were concluded over a total GLA of 19 081 m2. Fairvest also successfully renewed 16 038 m2 of leases, with a positive reversion of 1.6% being achieved on these renewals.
Fairvest said tenant retention for the period remained high at 67.5%, while the weighted average lease term decreased slightly from 39 to 37 months.
"Countrywide, food retailers demonstrated the most resilient trading densities of all merchandise categories, and smaller format retail outlets outperformed as consumers redirected their spending power toward convenience shopping closer to home.
"Fairvest's defensive portfolio and consistent distributions record have been well-recognised and rewarded by investors. The company has featured in the top three among the JSE's universe of 28 South Africa-based Reits in terms of total return performance in each of the key investment period horizons of one, three, five, and ten years," Wilder noted.
He added that most rent relief negotiations with tenants had been concluded during the reporting period.
Additional rental remissions of R9.7-million were conceded in the second half of the year. During the period net arrears decreased by 26.7% to R16.7-million.
Wilder said collection of deferrals had been better than anticipated and Fairvest expected arrears to decrease further by the end of the financial year in June 2021.
The company's balance sheet remains strong, with a 32.2% loan-to-value ratio and it had no debt facilities expiring for the remainder of the 2021 financial year.
Fairvest's total debt stood at R1.1-billion at the end of December 2020.
OUTLOOK
Fairvest said the long-term impact of the Covid-19 pandemic on the local economy remains uncertain, given the pace of the vaccine rollout and potential further infection waves which may affect tenants.
Fairvest nonetheless remains well-positioned with a defensive portfolio of grocery-anchored assets in smaller, more convenient centres, a conservative balance sheet with modest gearing levels and more than R220-million of undrawn debt facilities.
"The focus areas remain to maintain viable tenancies and letting of vacancies, with a strong focus to reduce arrears even further," Wilder noted.
After taking into consideration the uncertain environment described above, as well the performance of the past six months, the Fairvest board expects the distribution per share for the 2021 financial year to be between 0% and 2% higher than the previous year.
The board has also again resolved to maintain the current dividend pay-out ratio of 100% of distributable earnings.
Wilder said Fairvest's philosophy has always been to maintain a simple property business and to focus on the basics.
"The company is determined to continue to keep an uncomplicated traditional property business with a conservative balance sheet and income statement, devoid of complex financial structures.
"We continue to maintain and grow a portfolio of quality assets with strong property fundamentals and to provide hands-on property management, as we strive to continue to add value for our shareholders."