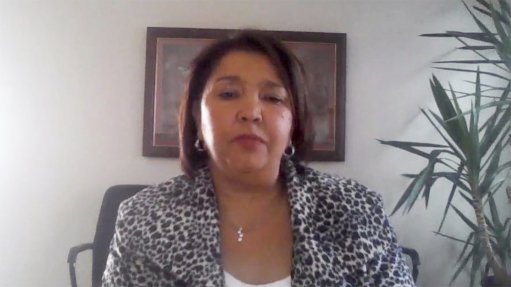 Through effective service management and through the appointment of professional companies that understand business, the facilities management (FM) sector unlocks an opportunity for companies, government and South Africa as a whole to create employment, while simultaneously meeting political agendas to invest much-needed funds into infrastructure.
FM encompasses a range of disciplines and services to ensure the functionality, comfort, safety and efficiency of the built environment, and can include responsibilities such as lease management, capital project planning and management, maintenance and operations.
However, FM Solutions business development director Lydia Hendricks explains to Engineering News & Mining Weekly that FM services are "strategic in nature" and that it is often the "most underestimated expenditure" in companies.
This lack of focus, she laments, is often the reason why South African citizens are expected to provide "billions of rands" to attend to buildings that are, more often than not, under- or poorly managed.
Not all is lost though, as this provides an opportunity for the FM sector to consider immediate needs and provide solutions for the long-term within the environment.
The South African government has a portfolio of more than 93 000 buildings and its traditional approach to property management has been to steer funds towards upgrading derelict buildings at huge capital costs, instead of directing enough funds towards the preservation of assets.
In a recently published opinion piece, Hendricks advocates that fixing this problem "starts with government admitting that it needs help and accepting guidance from professional FM experts who will be able to provide a thorough understanding of the built-in systems, as well as develop a detailed recovery and restoration plan".
This provides an opportunity for public-private partnerships (PPPs), which she says will not only address inefficiencies, but will also challenge and rectify wasteful expenditure.
This approach lends itself to the creation of more jobs in communities through the development of small-, medium-sized and microenterprise (SMME) initiatives, the appointment of carefully selected local services providers and the training of in-house staff to effectively manage facilities.
Seeing this as a valuable opportunity for skills development and training, Hendricks enthuses that FM Solutions, a subsidiary of the AFMS Group (Pty) Ltd which has been in existence for two decades, provides a management service solution in that it tailors fit for purpose service solutions to creates conducive working environments that supports the core business strategic objectives.
This is achieved through the ingenious systems integrating technical, soft services and business support services to ensure seamless, flexible and agile FM services that enables business efficiency and cost effectiveness, backed by a computer-aided FM system that provides data that guides strategic and sustainable FM decisions.
Along with building management systems and operational standards, that include stringent - health and safety systems, the company through the academy of its sister company Afroteq Advisory Pty Ltd also provides training and professional FM Advisory services. Together, these powerful organisations ensure solutions to the built environment that are tailored to the project's requirements, while simultaneously providing clients with "measured value beyond savings".
The Afroteq Academy who have recently received the SAFMA award for "Excellence in Facilities Management", offers a wide range of courses including an occupational qualification at National Qualifications Framework (NQF) Level 6. These courses are available through online training courses as well, and equip learners in the discipline of FM, increasing the pool of industry professionals who need the necessary tools in this dynamic and never-ending demands for innovation and measured effectiveness.
Hendricks believes that true empowerment requires proper management, training and mentorship that will enable SMMEs to "better sustain themselves and grow their business".
COVID-19 IMPACT
While the Covid-19 pandemic may have irrevocably changed and influenced many industries, Hendricks says it "has brought [South Africa] to the point of no return" as local and provincial governments are now willing to concede that they need help in curbing ongoing fruitless expenditure, unlocking savings and turning ailing administrations around.
Local governments, in particular, are facing serious financial deficits ahead of the start of the new financial year, she explains in her opinion piece, adding that funds are required to continue operations, maintain buildings and drive the post-lockdown recovery of local economies and town centres. Job creation must not be the sole focus for government expenditure to address poverty alleviation but it is imperative to develop sustainable long-term solutions to ensure sustainable growth for SMMEs and government achieving return on investment on their assets whilst doing so.
The only way they can do this is to join hands with the FM industry and form PPPs, she implores, warning that, while digitalisation may have become prominent for a virtual way of completing tasks, "there are still manual tasks that need to be done, for example, cleaning or maintenance services, that can only be digitised to a certain extent".
While government will need to continue to seek opportunities to make its assets work for itself, FM still has a "huge part to play" in bringing about value to the business as workspaces continue to adapt and change, and integration needs to be ensured. Government departments in particular need to work to the same good to avoid wasteful expenditure. This is achievable with the innovation and sophistication the FM industry brings to business.
FM can also bring value to an organisation through effective outsourcing and management of services, particularly for decentralised companies, where each unit has its own cost centre.
Hendricks says that, in such an instance, companies are often duplicating expenditures and again emphasises the importance of FM in being able to centralise and manage these expenses, and in so doing free up core business resources' time and hassle. These companies would be well advised to do this exercise and explore what their true cost of ownership for FM is.
In so doing, FM Solutions – and other FM service providers – are able to develop a solution that is effective, sustainable and that empowers the people not only within an organisation, but also helps the company to focus its human resources on its core business.
PROJECTS
While Hendricks was unable to disclose the many and exact projects the company is a part of, she did mention a few key projects such as the MyCiti where FM Solutions manages all of its stations.
Hendricks explains that there are huge opportunities for municipalities and government departments to leverage their buildings to become self-sustainable. Swimming pools in the Western Cape is a prime example, where these pools can be covered and heated to give access to the community, swimming federations and rehabilitation centres and generate income for much needed maintenance, This, she explains, allows the pool to be leveraged to the best benefit – being used throughout the year, rather than for just a few months.
"Sweating that asset can derive an income and be self-funding," she points out.
FM Solutions has also assisted about 315 health facilities in the Eastern Cape with asset management and asset audits, in addition to many other requirements, to bring these buildings into alignment with GIAMA and the Public Finance Management Act.
The company has also recently secured an eight-year contract with the Western Cape government for the management of the Western Cape Rehabilitation Centre and Lentegeur Psychiatric Hospital.
"This comes on the back of credible and evidenced value that FM brings, and what our company has brought to the table," Hendricks says, enthusing that she is "excited about what South Africa can do if it uses the resources at hand".
However, she also laments that the company has identified a gap in communication and inter-department integration when working for governmental departments, which, as a result, has seen money "falling through the cracks" – something the company aims to rectify through its FM service provision.
"What we need as a country is to build skill within the FM industry, as this will create more and more capacity within the country and, in so doing, ensure better service delivery and growth for the people within our country," Hendricks comments, adding that she believes there is "so much opportunity out there".