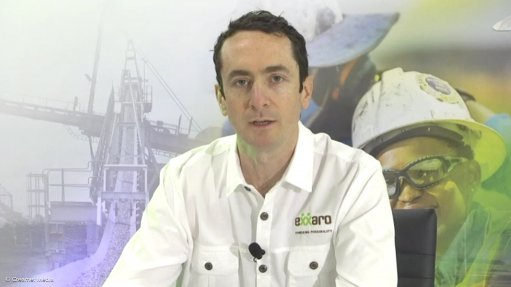 Exxaro Energy MD Roland Tatnall
Photo by: Creamer Media
JOHANNESBURG (miningweekly.com) – It is important to note that the renewable energy focus of coal company Exxaro is not a new focus but a re-focus on a strategy that has been in evidence for more than ten years, says Exxaro Energy MD Roland Tatnall.
The Johannesburg Stock Exchange company's strategy just unveiled has been the culmination of steps taken by the company over the past decade to become a global renewable energy solutions provider by 2030.
"Our purpose is to drive carbon neutrality by 2050 and to provide better lives in Africa and beyond," says Tatnall.
In looking to power a clean world it has already commenced with its own generation projects and an expansion of its services business.
It has already transitioned some of its mining colleagues through renewables training for integration into the renewables team as part of building on its skills base organically.
'We're looking to enter new markets in a low-risk way, through either partnerships or acquisition," says Tatnall.
Exxaro, through its wholly owned group company Cennergi, is already South Africa's second largest locally owned renewables developer after Old Mutual, with two wind farms totalling 229 MW and nine solar facilities of 2 MW each. It will be generating a further 70 MW of green power at its large Grootegeluk coal mine, in Limpopo, with plans also in place for Belfast and Matla, the group's other two main coal mines.
Returns of 15% are being targeted on a portfolio basis, with the thrust projected to earn an additional R6-billion of earnings before interest, taxes, depreciation and amortisation (Ebitda) by 2030.
"A simple, lean, empowered and agile" approach is being targeted for the new business.
Over the past 18 months, Exxaro advanced its renewable energy business intensely to support its decarbonisation goals, along with its ambitions for sustainable growth through the development of the three pillars of distributed generation, utility generation and asset management services.
The company has built a team to provide green energy solutions domestically and abroad and it is projecting that 70% of its earnings will be non-coal earnings by 2030.
It has been engaging with various mines in South Africa to provide them with bespoke renewable solutions.
"Ultimately, we're looking to provide renewable energy solutions to the private and public sectors in select markets globally," says Tatnall.
On distributed generation, he adds: "It's a sector that is a high-growth sub-sector. It's still at a nascent stage in South Africa, but it is also a higher-return environment. We're dealing with private-to-private transactions with bespoke solutions and that necessarily involves higher returns than the utility generation pillar.
"We're targeting above 3 MW per project, scaling to over potentially 100 MW per project," he says.
In utility generation, where it already has two 229 MW assets, it is targeting above 20 MW and is continuing to appraise the South African market from a utility perspective. On South Africa's Bid Window 5, it took a decision not to enter at this stage, on the basis of the risk-adjusted returns not meeting its investment criteria.
Services, where it already has 11 assets under management, is being targeted for strong growth and could potentially be its own standalone business.
"It enables us to seek new customers and to broaden our customer base and deliver new services, beyond just our asset base, and ultimately, into the future, we're looking into further horizontal integration of additional services and potentially disruptive digital models as the distribution base grows in South Africa and beyond," Tatnall outlines.
Merger and acquisition opportunities are being looked at across three pillars to enable the company to transition at speed and at scale and to enter new markets in a low-risk way.