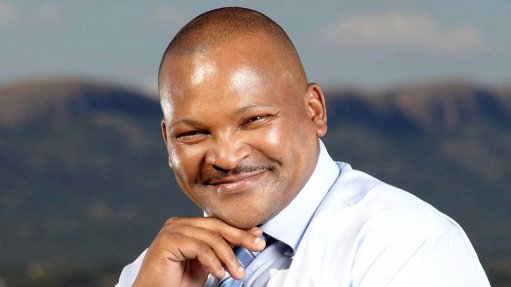 TSIDISO DISENYANA Foreign investment is targeted at establishing Africa's green economy, therefore renewables will become a driver of socioeconomic growth
The African continent's large energy deficit has resulted in an exponential increase in the number of power generation projects – both planned and implemented – as well as the number of stakeholders which are a consequence of renewed commercial interest in the African energy sector, says State-owned financial services provider Export Credit Insurance Corporation (ECIC).
There is an estimated 130 GW of suppressed demand across sub-Saharan Africa's countries. As such, ECIC senior economist Tsidiso Disenyana – a panellist at the 2017 Africa Energy Indaba hosted at the Sandton Convention Centre from February 21 to 22 – explains that the continent has huge constraints in terms of energy supply and energy access, largely owing to high population growth, urbanisation and greater demand from emerging industries. As such, a number of power generation programmes have been introduced across the continent to address this ever-increasing demand.
He notes that funding for energy projects by African governments, multilateral institutions such as the World Bank and other private funders is particularly robust, adding that the majority of funding allocated to infrastructure development programmes are for planned and ongoing energy projects.
Disenyana, who will be discussing the prospects for growth in Africa at the Indaba, notes that over 600-million people on the continent do not have access to reliable power supply.
He adds that the reasoning behind this is threefold.
"Firstly, in terms of power generation, the continent lacks sufficient capacity. Secondly, with regard to transmission, State utility companies tend to experience high distribution losses due to old infrastructure and geographical challenges, particularly given the large swathes of land between urban and rural areas. Finally, in terms of distribution, urban centres, as areas that tend to contribute significantly to the national output, are prioritised over smaller and rural areas."
However, Disenyana mentions that the advent of renewable energy adequately addresses some of these issues. Standalone microgrids placed in rural areas would ensure access for rural communities. While these grids could eventually be linked to the national grid, in the short-term, there would be no pressing need to install transmission lines between power stations and these rural communities. Finally, the introduction of microgrids would address the issue of capacity without straining the national grid.
He notes that the current energy mix – across the entire African continent – remains heavily dominated by coal-fired power stations with pockets of wind, solar and hydropower generation schemes. However, he believes that the increased use of renewables, as well as the recent discoveries of hydrocarbons in East and West Africa, will result in a more balanced energy mix over time.
Additionally, Disenyana notes that a lot of foreign investment and interest is targeted at establishing Africa's green economy and he therefore believes that the renewables sector will be one of the main drivers of socioeconomic growth in years to come.
Further, he states that, if the environmental concerns regarding shale gas can be adequately addressed by regional governments and environmental agencies, then it, along with the advent of cleaner coal technologies, could result in an easily exploitable energy resource in the not too distant future.
Energy Indaba
Disenyana says the ECIC, which is one of the sponsors of the Indaba, is excited to share its experience in energy-related projects with guests and speakers attending the 2017 event. He cites the influence the ECIC has in energy projects in Ghana and Mozambique, as well as its ability to act as a catalyst in these projects by assisting South African companies with securing funding and mitigating political and financial risk by offering insurance.
He notes that, aside from the panel discussion he is taking part in, he is also looking forward to attending the ministerial panel on Increasing Regional Trade and Regional Integration in the Energy Sector, as well as panel five: The Roles of Power Pools and Interconnectors and the Business Opportunities Attached to Them.
The ECIC underwrites bank loans to finance the export of South African capital goods and services. Through its insurance products and collaboration with financiers and exporters, the ECIC facilitates export trade from South Africa to the rest of the world. It also supports cross-border investments, with a strong focus on transactions taking place throughout the African continent. The company's end goal is to assist businesses in expanding into markets outside South Africa.