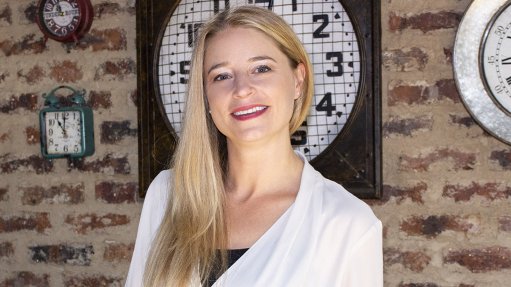 DEBBIE TAGG The expo aims to strategically foster mutually beneficial relationships
For the first time since its inception, the Smart Procurement World Indaba's co-located Enterprise and Supplier Development Expo will implement a programme called Smart Exchange.
The programme will provide a platform whereby buyers and sellers at the show will be prematched to increase mutually beneficial interaction.
The programme ties in with the event's 2019 theme, Courage and Urgency: Let's Walk the Talk, which encourages focused action from participants and not only attendance.
"We're challenging the buying partners, in particular, to have a meaningful take-home. We do not want to have a mere talk shop. We are aiming to foster an environment where we can make a real, palpable impact for small to medium-sized enterprise (SME) suppliers," event organiser Smart Procurement COO Debbie Tagg tells Engineering News.
Commerce Edge is working closely with several supply chain procurement teams from large organisations to ensure their commitment to the programme, with some committing to ensure that a set number of suppliers is secured by the end of the show.
Tagg explains that a number of these large organisations are committed to procuring from small suppliers – mostly black-owned – as part of their key performance indicator targets, in line with the latest amendments to the broad-based black economic-empowerment (B-BBEE) codes under the B-BBEE Act.
She believes that the Smart Exchange programme creates a good environment for these large organisations to meet their procurement quotas in terms of the latest B-BBEE codes.
"However, it is not simply about compliance. We encourage buyer organisations to recognise that, by taking a long-term view regarding enterprise and supplier development, they are building enterprises that can become meaningful parts of the supply chain. It creates shared value and contributes to local economic development."
Further, a select number of SME suppliers will also have the opportunity to attend targeted pitching sessions hosted by eight members of the Department of Trade, Industry and Competition's Black Industrialists Programme, whereby the suppliers will have the opportunity to meet with about 20 procurement professionals from different sectors and pitch their wares.
Moreover, visitors to the expo will also have opportunities for meaningful contact with relevant buyers and sellers through the Supplier Matchup programme.
"On the hour, every hour, there will be procurement teams from between 10 and 15 large enterprise and supplier development organisations from the public and private sectors. These organisations will occupy booths to enable the SME suppliers to freely engage with them to determine their procurement processes and whether there is potential for deals to be brokered," Tagg explains.
Smart Procurement content head Mediacy Mudekwa notes that this programme is helpful for SMEs because it can be very difficult for them, under normal circumstances, to secure face-to-face meetings with such large organisations.
"These large organisations have designated enterprise and supplier development budgets that need to be spent in accordance with the latest B-BBEE codes. Therefore, these programmes create opportunities for SME suppliers to make themselves known to the right enterprise and supplier development organisations and forge mutually beneficial business relationships," he says.
Strategic Support
For several years, the expo has showcased several large enterprise and supplier development organisations that, in turn, host up to 300 preapproved, corporate-ready SME suppliers behind their respective pavilions.
"Through this hosting approach, these recommended SME suppliers can gain access to market in a strategic manner. Many of them would otherwise never be able to afford exhibiting at an event of this magnitude," Mudekwa explains.
Tagg adds that this strategy, employed at previous expos, has yielded a number of fruitful and mutually beneficial relationships within the supply chain.
"Feedback from our exhibitors clearly outlines the success of the event in equipping them for sustainability while providing them with the opportunity to network with potential clients," she says.
The SMEs being hosted by the large enterprise and supplier development partners at the event are verified businesses, having met all the necessary administrative and legal requirements for doing business with large corporates.
"This eliminates any administrative concerns that large corporates might normally have when procuring from SMEs because these SMEs are already 'in the system'. They have done their due diligence and are business-ready," Mudekwa notes.
About 89% of the 300 SMEs will be hosted by enterprise and supplier development partners; the remaining percentage will be self-funded.
Last year, about 30% of the exhibiting SMEs secured business deals on site.
Visiting SME patrons who are not part of the enterprise and supplier development programme will have the opportunity to catch up, however, owing to free training programmes – called How to do Business – that will be on offer at the event.
The enterprise and supplier development partners will host sessions wherein procurement professionals from the respective organisations will explain the processes, procedures and administrative requirements for becoming a supplier to their organisations.
"It is an engaging event. Attendees and delegates will be strongly encouraged to participate in structured and strategic networking through the many mechanisms we provide," Mudekwa concludes.