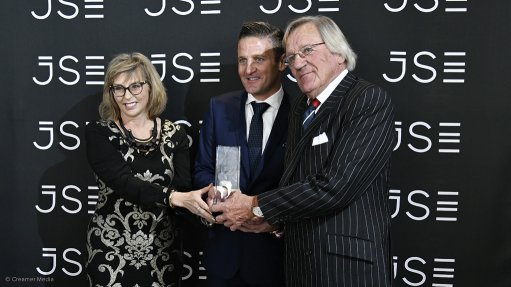 (Left-to-Right) JSE Capital Markets Director Donna Nemer, Exemplar MD Jason McCormick and Exemplar Executive Director John McCormick
Photo by: Dylan Slater
Despite volatility in the current market, real estate investment trust (Reit) Exemplar REITail on Tuesday listed in the retail Reit sector of the main board of the JSE.
Exemplar MD Jason McCormick on Tuesday said the listing will allow the company to stand alongside the "giants of commerce and industry who are shaping the future of the nation".
He added that the company expects to have the opportunity to accelerate its founding vision of being an agent of change within the communities in which it operates and "making that change for good".
Through ongoing community initiatives, Exemplar aims to continue generating levels of goodwill within its portfolio, while further entrenching the loyalty and support of communities.
Commenting on upcoming activities, McCormick said the company will consider acquisitions from third-party developers but will only do so if the potential asset is congruent with Exemplar's existing portfolio.
Exemplar has a portfolio of 20 income-generating properties, which span about 350 000 m2 across six provinces, and has secured a further three shopping centre development properties, which are scheduled to be completed between April and October 2019.