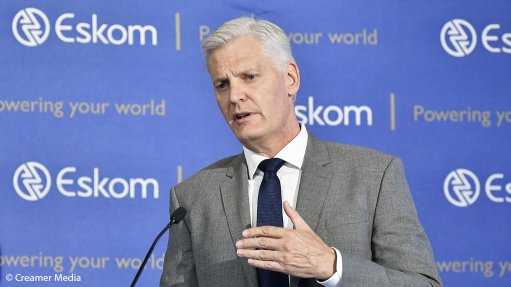 Eskom CEO Andre de Ruyter
Photo by: Creamer Media's Donna Slater
State-owned power utility Eskom's debt burden remains "unsustainable" despite an R81.9-billion reduction in its gross debt to R401.8-billion in the year to March 31, 2021, during which the entity remained a going concern only because of a R56-billion government injection.
The utility reported a slightly improved loss of R18.9-billion (R20.7-billion) for the year but also indicated that it would continue to require taxpayer support for the foreseeable future, with government having already injected the R31.7-billion pledged for the 2022 financial year.
Further injections of R21.9-billion and R21-billion have been budgeted for 2023 and 2024 respectively.
Despite a rise in revenue to R204-billion on the back of an 8.76% tariff hike rather than sales, which fell by 6.7%, Eskom's operating surplus of R31-billion fell short of debt interest payments of R37-billion.
Had it not been for taxpayer support, a positive opening balance and additional debt raised of R16-billion, the utility would have faced a R75-billion debt-servicing gap in 2021, during which it repaid debt of R103-billion, comprising R66-billion of capital and R37-billion of interest.
CEO Andre de Ruyter said Eskom's debt profile remained unsustainable, despite ongoing cost reduction efforts and some material progress, following several favourable legal judgments, in migrating its tariffs towards cost-reflective levels.
He reported that engagements were ongoing with the National Treasury to settle on a debt solution, which he attributed largely to unfavourable regulatory decisions, which had supressed tariffs at below cost-reflective levels for a sustained period, despite a steep step-change in tariffs since 2008.
De Ruyter said it was no coincidence that its current debt burden was almost in line with the R370-billion shortfall that had been calculated as representing the gap between tariffs approved by the National Energy Regulator of South Africa and those considered to be cost-reflective.
Dealing with Eskom's legacy debt should not, however, prevent the utility and government from pursuing a climate-finance transaction that would help Eskom and the broader electricity supply industry transition toward long-term sustainability.
CLIMATE FINANCE
"If we say that, because we have this unsustainably high debt burden, we will therefore not pursue any climate transaction, we will also not be in a position to spend the approximately R50- to R60-billion that we need to upgrade our distribution infrastructure to accommodate embedded generation.
"We will also not be in a position to spend the approximately R120-billion that we are required to spend in order to build the 16 major new substations, the 112 new transformers as well as the 8 000 km of new transmission lines that will be required precisely to accommodate new private sector generation.
"So, we find ourselves in a position where we have to look ahead while, at the same time, resolving some of the legacy issues that we've got," De Ruyter said, without directly referring to the National Treasury's apparent reticence to take on more debt to fund the energy transition despite there being significant international climate finance available on highly concessional terms.
De Ruyter also defended the decision that Eskom generation, which was in the process of being legally separated from transmission and distribution, be empowered to invest directly in new renewable-energy generation to partly replace the coal capacity that would be decommissioned over the coming two decades.
Preventing the generation unit, which was likely to absorb the bulk of the debt when separated from the Independent Transmission and System Operator (ITSMO) and the new distribution entity, would leave it facing a R300-billion bill to ensure its coal plants were fully compliant with minimum emission standards and leave the entity and the country vulnerable to not meeting decarbonisation commitments.
It has been reported that Eskom aims to invest R106-billion into new wind and solar energy projects by 2030.
"The option we prefer is to make modest investments – there is no intention to crowd-out the private sector . . . But we do believe that we have an obligation in particular to those communities that have invested so much in the coal value chain over generations to provide those with an alternative [and] being a State-owned enterprise we do have other objectives than pure profit.
"Part of our mandate is to create job opportunities and investments in the coal belt in Mpumalanga in order to ensure that this energy transition is just."
POLICY RIFTS?
De Ruyter also denied any policy rift between himself and Mineral Resources and Energy Minister Gwede Mantashe, who recently questioned why the utility was so keen to close coal stations at the expense of jobs.
He noted that the decommissioning of coal plants was aligned with the Integrated Resource Plan of 2019 (IRP 2019), a government document, with the only proposed departure, ahead of 2030, being Eskom's suggestion that Tutuka be shut earlier than planned, owing largely to its underperformance.
The IRP 2019 outlines that 11 000 MW of coal should be decommissioned by 2030.
De Ruyter also defended the decision to retain the ITSMO as an independent subsidiary of Eskom, despite some calls for it to be established as a new State-owned enterprise.
"Our legal advice, based on proper independent governance, shareholder-reserve matters and a proper carving out of decision-making rights, is that this is possible and achievable.
"There is, in certain quarters and I say so with respect, the rather simplistic view that if it isn't completely outside of the Eskom stable, independence isn't possible.
"Again, our legal advice begs to differ, but ultimately this is a policy decision that will be decided upon by the shareholder."