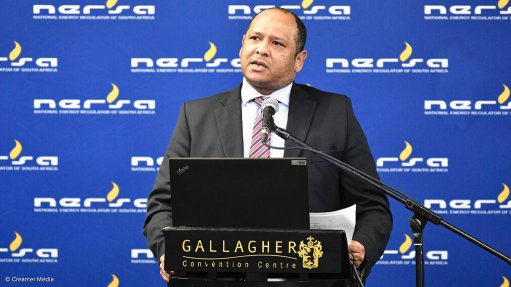 Eskom CFO Calib Cassim
Photo by: Dylan Slater
State-owned electricity utility Eskom is warning that its loss for 2018/19 will be worse, at R20-billion, than the R15-billion loss it had projected earlier and that it will be followed by another big loss in 2019/20 even if it receives hikes it is currently seeking from the regulator.
CFO Calib Cassim announced the revised earnings estimate during the second day of the Gauteng leg of the National Energy Regulator of South Africa's (Nersa's) public hearings into Eskom's fourth multiyear price determination (MYPD4) application.
The deterioration was attributed mainly to the additional costs that had arisen as a result of the underperformance of the utility's coal fleet, which had already resulted in a sustained period of rotational load-shedding towards the end of 2018.
The fall in the coal fleet's energy availability factor (EAF) had also led to Eskom becoming increasingly reliant on more expensive generation options, such as the diesel-fuelled open cycle gas turbines.
Cassim also used the hearings platform to warn of a possible R19.7-billion loss for the 2019/20 financial year, which he said could arise even if the utility was granted the 21.5% tariff increase it was seeking for implementation from April 1.
Following recent revisions to the sales and production assumptions used in its original MYPD4 submission, Eskom is requesting a 17.1% hike for 2019/20, instead of the 15% originally sought. The increase would be additional to the 4.41% rise already approved for the year as a result of Nersa's adjudication, last year, of Eskom's Regulatory Clearing Account (RCA) applications.
The utility also revised its tariff request for 2020/21 and 2021/22 to 15.4% and 15.5% respectively from 15% previously, after lowering its sales forecast, reducing the coal fleet EAF for the coming three years and updating the schedule for the introduction of new Medupi and Kusile units.
In addition, Eskom is seeking to claw-back a R21.5-billion through an RCA application for 2017/18 and is proposing that the amount be recovered by means of a 2.8% additional hike in 2020/21, which would be included in the tariff base until 2022/23.
Cassim said price increases in line with Eskom's updated request – which is being strongly contested by business, unions and civil society – were necessary to return Eskom to within reach of a breakeven position and allow it to begin servicing its R420-billion in debt without resorting to additional debt.
Should it be granted its request, Eskom forecasts that it would make a smaller loss of R3.6-billion in the third year of the MYPD4 period and return to profitability thereafter.
R100BN DEBT RELIEF PROPOSAL CONFIRMED
The earnings estimate did not include any provision for government taking over R100-billion of its debt, which Cassim confirmed had been proposed to government by Eskom. "Obviously, if that decision is favourable, it will improve our income statement to a certain extent."
In the absence of support from either the consumer or the taxpayer, or both, the utility's "going-concern status was in jeopardy".
"If we get to a situation where our accounts are qualified, the implications are significant for Eskom, where the lenders will want to recall their debt, government will have to step in and we will have to present our financials on a liquidation basis. That's the seriousness of the situation that's facing Eskom."
Eskom also stressed that calls for no increase or an inflation-linked hike were not realistic, owing to the RCA-related tariff approval of 4.41% and the expectation of full cost recovery against current and future independent power producer (IPP) contracts, which would add a further two percentage points to the 2019/20 increase.
"Therefore, in reality, we are already at the top of the inflation target, without giving Eskom a single increase for its own cost of operations."