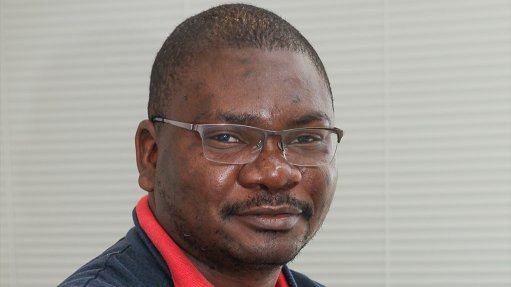 SAMPSON MAMPHWELI There is a greater need for a balanced energy mix between coal, gas and renewable energy
The challenges facing State-owned power utility Eskom can be mitigated through proper, efficient and effective management, which is possible with the company's unbundling, says Stellenbosch University Centre for Renewable and Sustainable Energy Studies (CRSES) director Professor Sampson Mamphweli.
During his State of the Nation Address in February, President Cyril Ramaphosa announced that Eskom would be unbundled into three separate State-owned entities focusing on generation, transmission and distribution.
"Eskom is too big to be managed efficiently and effectively as it stands. It needs to be unbundled. In terms of its regulation, the National Energy Regulator of South Africa can still fulfil that role going forward," says Mamphweli.
Engineering News reported in March that the unbundling process would bolster accountability and transparency and enable the managers of the different entities to focus on turning different parts of the business around. Crucially, the reorganisation should also crowd in private finance and enable lenders to more accurately assess and reflect the risks of the underlying businesses when funding them.
It is also reported that, according to the National Treasury, a new independent board would be appointed at the power utility by mid-2019; Eskom's assets would include the grid and associated substations, the national control centre and the system operator assets, as well as its peaker power stations.
Supply agreements with existing clients would be migrated to the transmission entity, along with supply contracts concluded between the transmission and distribution entities.
Mamphweli adds that more role-players are needed in the electricity generation sector, ranging from large-scale independent power producers (IPPs) to the household, rooftop photovoltaic (PV) providers.
Moreover, renewable energy must be rolled out by IPPs through the Renewable Energy Independent Power Producer Procurement Programme and allow households and farms to have embedded generation to feed electricity from rooftop PV to the grid, he says.
"Government needs to start considering embedded generation through net metering using rooftop PV, as this will ease the pressure on Eskom's fleet. IPPs need to be allowed to contribute up to 45% of the country's electricity needs. The renewable-energy power plants are becoming cheaper to build and they can be built within budget, as opposed to coal-fired power stations."
He further notes that there is a greater need for a balanced energy mix with coal, gas and renewable energy coming into play.
Although the future for Eskom does not look promising, Mamphweli says the draft Integrated Resource Plan, which has made more provision for renewable energy, and the decommissioning of ageing coal power stations, are some of the aspects he looks forward to.
Industry Engagement
The CRSES has been coordinating the Southern African Solar Energy Conference that provides an opportunity for national and international researchers, engineers, technologists and individuals to share and discuss recent developments in the sector.
This year, the sixth edition of the conference will be held at the University of Fort Hare, in the Eastern Cape, from November 25 to 27. It will cover most aspects of solar energy, including solar thermal, PV and solar resources.
To benefit the solar energy community holistically, engineers and scientists from academia and industry are encouraged to share their ongoing and completed research, technology developments and experiences with technology deployment.
Meanwhile, the CRSES and the Solar Thermal Energy Research Group are cohosting their yearly national postgraduate symposiums to provide masters and doctoral students with an opportunity to present their research.
This year, the focus of the symposium will be on wind, ocean, bioenergy, solar thermal, PV and concentrated solar power, as well as renewable-energy finance and renewable-energy policy. The symposium will take place from July 17 to 19.