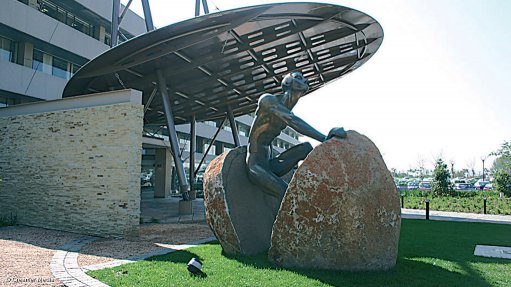 Eskom's Megawatt Park HQ
Photo by: Creamer Media
Eskom CEO André de Ryuter reports that the utility will host its first roundtable with local and international energy experts on Friday, June 24 to discuss solutions to the country's electricity crisis and ongoing load-shedding.
Speaking during a briefing to explain a decision to extend rotational power cuts, owing to a combination of coal plant breakdowns, delays in returning Koeberg Unit 2 to service, as well as a need to replenish diesel stocks at the open-cycle gas turbines and pump water into the upper dams at its pumped storage facilities, De Ruyter stressed that Eskom had no role in crafting energy policy.
Nevertheless, it was hoping to make solution-oriented recommendations to the Department of Public Enterprises for possible consideration by government, which has made improving the security of electricity supply a top priority.
"We've got a whole day set aside for this consultation.
"The emphasis is going to be on solutions and how we can make recommendations [for removing] roadblocks that stand in the way of the rapid addition of more generation capacity to the grid," De Ruyter said.
"But again, I want to stress that it's not Eskom's job to make energy policy, we execute energy policy.
"We're also not in the business of procuring electricity; that is done by the IPP Office, which reports into the Department of Mineral Resources and Energy."
The utility is on record as saying that between 4 000 MW and 6 000 MW is required to help stabilise the system and to provide it with time and space to conduct proper maintenance across its aged coal fleet.
In the meantime, power cuts have been intensifying, with 2021 having been the country's most intensive year yet for load-shedding and with 2022 set to be even worse.
By June 22, Eskom had already implemented 54 days of load-shedding during 2022, up from 51 days during the same period in 2021.
Load-shedding has also typically been implemented at higher stages, including periods during which Stage 4 has been declared, representing 4 000 MW of simultaneous rotational cuts.