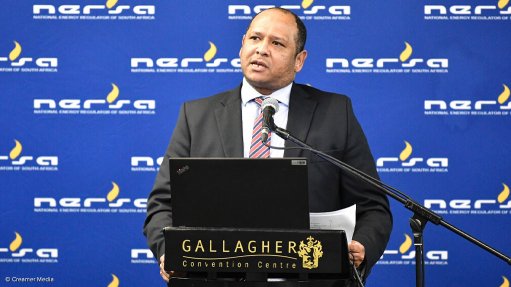 Eskom CFO Calib Cassim at a previous Nersa hearing
Photo by: Creamer Media's Donna Slater
Eskom has acknowledged that urgent interventions are needed to assist certain large industrial customers, some of which are competing with international companies whose electricity is subsidised, to navigate the transition to cost-reflective electricity tariffs.
In a presentation on the third day of public hearings into the State-owned utility's 2022/23 allowable revenue application, CFO Calib Cassim said that the country needed to assist industry to remain sustainable, as retaining such operations was critical from an economic perspective.
"Also, the loss of certain industrial customer sales and revenue results in additional upward price pressure on all customers than would otherwise be the case, placing further electricity sales at risk."
However, he argued that targeted subsidies would cost less than subsidising the yearly shortfall between Eskom's regulated revenue and its "prudent and efficient costs".
"Internationally, utilities and governments are retaining large industrial customers through tax rebates, tariff discounts or similar financial mechanisms.
"Certain industrial customers in South Africa are competing internationally with these subsidised customers, so they need support to be competitive and sustainable," Cassim said during virtual hearings hosted by the National Energy Regulator of South Africa (Nersa).
He suggested that long-term and short-term negotiated pricing agreement frameworks, which had been approved by Mineral Resources and Energy Minister Gwede Mantashe, could go a long way in supporting vulnerable industrial sectors.
However, additional measures for the support of vulnerable sectors should also be considered.
The utility has requested an increase to its allowable revenue that, together with already approved regulatory clearing account amounts, would translate to a 20.5% hike in the standard tariff from April 1.
If approved, the standard wholesale tariff would rise from 133.64c/kWh to 161.04c/kWh, an increase that stakeholders have described as unaffordable.
While all non-Eskom presenters have objected strongly to the increase, the focus during the first three days of hearings has been primarily on the plight of poor households rather than industrial customers.
The objections of larger consumers are likely to be heard mainly on the final day of the hearings, scheduled for Johannesburg on February 21, although Agri Western Cape has already appealed for a hike of no more than 7%.
In response to what could be done to protect poor households from the full impact of the requested hike, Cassim said some mechanisms were available, including free basic electricity of 50 kWh per household per month, a subsidised Eskom tariff on certain categories of consumers and the inclining block rate (IBT) implemented by Nersa to cushion low-income households that use very little electricity.
"The tariff has been successful in lowering the cost of electricity for the poor.
"However, Eskom believes that the IBT as it is currently structured does not sufficiently target low-income households and places an unsustainable subsidy responsibility on urban customers," Cassim said.
Structural changes have been formally proposed but will not be implemented during the 2022/23 financial year.
While acknowledging the affordability concerns being raised, Cassim nevertheless urged Nersa to assess Eskom's costs on their merits, before deciding on what regulatory levers or policy interventions could be used to offer support to consumers.
"We should not let affordability cloud the merits of Eskom's application and the efficient costs should be allowed to be passed on."
He also noted that most of the objections so far had been from municipal customers, which could reflect the gap between Eskom and municipal tariffs; an issue that he said should also be dealt with separately.