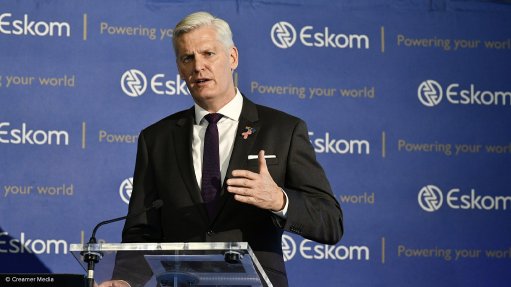 Eskom CEO Andre de Ruyter
Photo by: Creamer Media's Donna Slater
State-owned electricity utility Eskom expects to cut its full-year loss to R9.1-billion in 2021/22, from R18.9-billion in 2020/21, but warns that its debt position remains unsustainable despite some positive financial momentum during the six months to September 30, including a reduction in its overall debt to R392-billion.
CEO André de Ruyter reported on Thursday that Eskom made a R9.2-billion profit during the first half of its financial year, on the back of higher tariffs (15.06%) and sales volumes (8%) and reduced costs (R20-billion in savings targeted).
However, that profit will be more than wiped out during the second half, when the utility traditionally has lower sales, lower industrial tariffs and higher costs, as it ramps up its summer maintenance programme.
The utility will also face lower revenue as a result of an intensification of load-shedding during the initial months of the second half of the year, as well as higher diesel costs, as it resorts increasingly to using its open-cycle gas turbines (OCGTs) to keep the lights on.
CFO Calib Cassim reported that Eskom anticipated that it would spend of R16.1-billion on OCGTs for the full year, which would contribute significantly to the expected loss.
In addition, gross debt was forecast to increase to R416.4-billion by the end of March, from R401.8-billion in March 2021, largely due to funding being postponed from the prior year.
Therefore, the utility would continue to rely on government injections to sustain its going-concern status, with R21.9-billion required for 2022/23 and R21-billion for 2023/24.
Government support of R31.7-billion was received in the interim period, during which Eskom paid R40-billion to service its debt, divided between debt repayments of R24-billion and interest payments of R16-billion.
The utility faced debt servicing costs of R71-billion for 2021/22 as a whole, which would reduce to a yearly average of about R60-billion to 2024/25.
De Ruyter said the debt stock on Eskom's balance sheet had to be addressed through a structural solution to ensure that the utility, and its unbundled divisions of generation, transmission and distribution, were no longer dependent on ongoing fiscal support.
He said Finance Minister Enoch Godongwana had been "fully appraised of the challenge" and had instructed his officials to continue engaging with Eskom on "finding a solution".
Priority would also be given in the coming six months to finding a solution to Eskom's municipal arrear debt, which surged by R5.6-billion (15.8%) to R40.9-billion in the interim period, while Soweto-related debt fell marginally to R6.9-billion.
NATIONAL TRANSMISSION COMPANY OF SOUTH AFRICA
De Ruyter also used the presentation to report progress on the legal separation of Eskom, with the National Transmission Company of South Africa (NTCSA) having been incorporated as a wholly owned subsidiary during the interim period.
The NTCSA Is expected to become operational during the 2022 calendar year and once the National Energy Regulatory of South Africa granted the new entity a licence and lender consent had been secured.
An asset transfer agreement was being prepared for signature by December 31, with Public Finance Management Act approval having been secured from the Department of Public Enterprises (DPE) and National Treasury approval expected soon.
The separation of the generation and distribution units would be completed by December 31, 2022.
The debt profile of the three entities was still to be finalised, but Cassim confirmed that the generation entity would hold the bulk of the debt, which would still be consolidated under the holding company.
"Measures are in place to start trading between NTCSA and the generation and distribution divisions," De Ruyter reported, adding that the new entity would also become responsible for trading agreements within the Southern African Power Pool.
ENVIRONMENTAL COMPLIANCE?
De Ruyter also confirmed that Eskom had been granted permission to appeal the Department of Forestry, Fisheries and the Environment's (DFFE's) refusal to grant Eskom permission to postpone the implementation of some of the air-quality compliance timelines set in terms of the National Environmental Management: Air Quality Act, of 2004.
The utility warned that the refusal would result in the immediate shutting of 16 000 MW of capacity and have a "very significant impact on Eskom's ability to provide electricity".
During the Eskom results presentation, the DFFE and the DPE issued a joint statement, stating: "The appeal administrator has granted Eskom approval to file their late appeal which they have now submitted. Members of the public and stakeholders are requested not to panic as there is no imminent [threat] of power outages."
De Ruyter said that the appeal suspended the decision pending the outcome of the appeal.
"This will now be considered by the DFFE and they will, I'm sure, give consideration to all of the elements, including the potential impact of the decision on the supply of electricity and I've got every confidence that this process will be a fair, balanced and objective one."