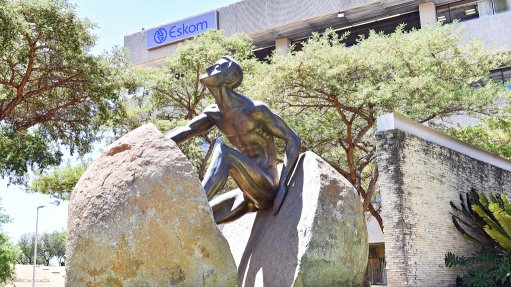 Photo by: Creamer Media's Donna Slater
Eskom CEO Andre de Ruyter describes as "aggressive" the end-of-2021 deadline for completing the unbundling of the vertically integrated power utility but insisted on Thursday that he was fully committed to adhering to the timeline contained in government's restructuring roadmap.
During a virtual briefing of lawmakers on May 6, De Ruyter included a slide in his presentation indicating that full legal unbundling might only be implemented in 2023.
On May 21, however, he reaffirmed that Eskom was aiming to meet the deadline contained in the Department of Public Enterprises' 'Roadmap for Eskom in a Reformed Electricity Supply Industry', published in October and which anticipates full legal separation by the end of 2021.
In a presentation delivered as part of Eskom's state of the system update, De Ruyter again stressed the complexity of the restructuring process and noted that similar initiatives implemented by private corporates had taken up to three years to complete.
Nevertheless, he described Eskom's vertically integrated structure as outdated and as an international anomaly, as most vertically integrated companies had been abandoned. "The world of energy has changed around us and we need to change along with it."
The decision to first pursue divisionalisation of the utility was defended on the basis that it would highlight the operational and structural inefficiencies without creating the risk of a debt default, which "precipitous unbundling" could trigger.
DIVISIONAL LEADERS APPOINTED
Separate divisional boards had been set up for generation, transmission and distribution and MDs had been appointed to lead each division. The generation division is headed by Bheki Nxumalo, transmission by Segomoco Scheppers and distribution by Monde Bala.
Each division was already managing separate income statements and, in time, separate balance sheets would be created so that each division could take it share of the utility's debt, which currently stood at above R450-billion.
De Ruyter indicated that Eskom could achieve independent financial sustainability should its debt be reduced to R200-billion and should it have a cash balance of R30-billion and a margin of 35%.
He did not provide any indication, however, as to how the utility debt could be reduced to that level, indicating only that Eskom's unsustainable debt remained its biggest challenge.
The utility did not anticipate any additional bail-outs beyond those already announced by the National Treasury, but was considering the sale of noncore assets and businesses, including the Eskom Finance Company, for which bids were already being entertained and Escap, which is the group's captive insurance unit.
A turnaround plan at Eskom Rotek Industries could also involved some disposals, but the unit itself remained core to Eskom.
De Ruyter said any proceeds from noncore disposals would be used to reduce debt.
Eskom would also slash capital expenditure by R22-billion against an initial budget for 2020/21 of R38-billion and was considering ways to access 'green finance' through the repurposing of power stations earmarked for decommissioning in the coming years.
A request for information had been released for repurposing proposals, which Eskom was linking to the country's plans for supporting a just transition for workers and communities vulnerable to a transition from coal to renewable energy.
In outlining high- and low-road scenarios for the utility, De Ruyter said that the objective was to reverse the previous trajectory of increasing costs, deteriorating operations and low revenue increases.
To achieve this, he unveiled a "rigorous turnaround plan", premised on operational stability, an improved income statement, a restructured balance sheet, far-reaching restructuring and an improved human resources culture.
He also indicated that the utility would be seeking a greater tariff alignment with the National Energy Regulator of South Africa, notwithstanding significant differences of opinion, which were being dealt with through various legal review processes.