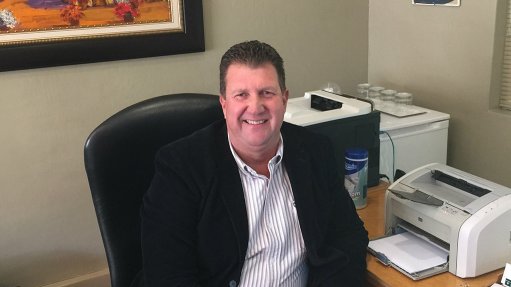 MIKE CRONIN Elquip has extensive knowledge of the South African tube and pipe industry
Boksburg-based capital equipment and consumables provider Elquip Solutions provides a range of steel-related products and products for coil processing and the fabrication industries, which it sources from leading brands in the international market.
Elquip Solutions has extensive knowledge of the South African tube and pipe industry and has amassed a wide range of products and solutions for this niche market. Customers in the tube and pipe industry need look no further than Elquip Solutions for high-quality solutions to their processes, says Elquip Solutions MD Mike Cronin.
An example of Elquip Solutions' comprehensive customer offering is its range of highly specialised precision scarfing tools and consumables, manufactured by Germany-based carbide tool fabricator Saar-Hartmetall.
He explains that nearly every welded tube mill requires scarf- ing tools to remove the weld beads created during the welding process.
"To achieve a perfectly smooth surface in tube production, scarfing needs to be done with precision, as mission-critical processes must make use of the right equipment."
Mistakes in the engineering and manufacturing sector are significantly costly from a lost production perspective, says Cronin, adding that it is therefore critical to use a tool designed to get the job done right the first time. "Saar-Hartmetall is the acknowledged leader in scarfing tech- nology and offers a product that is both highly efficient and user friendly."
Saar-Hartmetall produces an internal and external scarfing system, as well as the carbide inserts as consumables. The tools are also available in mechanical and hydraulic versions for tubing from 14 mm to 100 mm, and 32 mm to 184 mm respectively.
"As a company that is highly innovative, Saar-Hartmetall has refined its technology over the years. "They have continued to lead the way with components solutions, which are also simple and cost- effective," he says.
Besides simply delivering equipment to its destination, Elquip Solutions works closely with its customers to identify the most efficient and effective implementation for the technologies
customers require. Therefore, the company pro-vides both installation and on-site training for its customers of Saar-Hartmetall scarfing systems.
Although the technology has been designed to be as user friendly as possible, says Cronin, scarfing is also a highly specialised process, and Elquip Solutions is equipped with the necessary know-how to provide customers with expert advice and backup support.
A large stockholding of tools and carbide consumables by Elquip Solutions means that the Saar-Hartmetall range is readily available to South African customers.