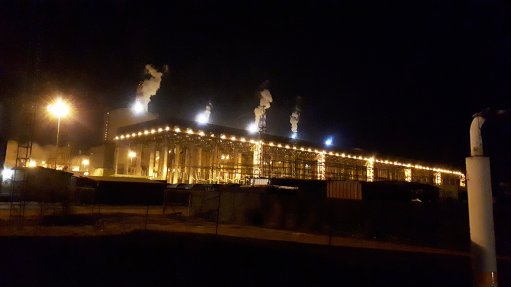 KEEPING THE LIGHTS ON Having an experienced project management team allows Lesedi Nuclear Services to maintain clients such as State-owned power utility Eskom's Medupi power station
Engineering, procurement and construction (EPC) company Lesedi Nuclear Services says using an experienced project management team remains one of the key factors that needs to be applied when managing, identifying and accounting for project risks in South Africa.
"Our environment is unique and this is one of the key mitigations we apply to ensure a successful project," says Lesedi industrial projects functional area manager Jean de Villiers.
Lesedi Nuclear Services supports clients with various EPC, and engineering, procurement and construction management (EPCM) projects in multiple sectors, including industrial, renewables, oil and gas, as well as nuclear.
"While an EPC contract takes the form of a design and construction contract, the EPCM model can be regarded as a professional services contract," says De Villiers.
He adds that the EPCM contractor has to ensure that the engineering and design of the project complies with the project's technical and functional specifications.
Lesedi's project management delivery model leverages highly tailored processes and tools to ensure it remains competitive.
"They are all based on Project Management Body of Knowledge principles and supported by accredited project management professionals," he points out.
He adds that the company is privileged to have six registered project management professionals – all of whom have been supported by Lesedi to achieve this internationally recognised accreditation.
Subsequently, the company has been fortunate to have executed large-scale projects where it used the opportunity to develop and test its systems in a real-time environment.
"There is no substitute for real-time testing and development, as process deficiencies and inefficiencies are identified much quicker, as a result of the demanding complexities of these large projects," he regards.
Lesedi's bespoke EPC and EPCM contracts include State-owned power utility Eskom's Medupi power station balance of plant for all low pressure systems and Eskom's Kusile power station (engineering and supply of all balance of plant inline equipment, as well as the design, supply and commissioning of the oil areas fire protection systems).
Lesedi also has a long-standing history of projects in the various phases of the Ankerlig and Gourikwa Open Cycle Gas Turbine projects amounting to 14 gas turbines in total.
Other references include the recently awarded Cape Ocean Terminals feasibility study for a large-scale fuel storage and distribution facility in Saldanha.
Meanwhile, De Villiers suggests that the Fourth Industrial Revolution will force the industry to engage new project management tools and mobile applications (apps) to assist in managing and analysing the health of the project much faster.
He points out that as much as earned value management remains of critical importance, peripheral factors influencing such management – such as the assessment of the status of communication, procurement, collaboration and workflows on the project – will now be possible through easily accessible performance charts.
"One area Lesedi is particularly proud of is the implementation of its online project management collaboration platform, with the company having adopted construction project management software Aconex – developed by computer technology corporation Oracle – in 2014," he enthuses.
Lesedi engaged with Aconex in 2014 when the system was already operational, but not as developed as it is currently. Subsequently, Lesedi has provided operational experience input for Aconex as Lesedi became more familiar with the system.
The Aconex platform is efficient in supporting the project management team, as well as controlling Lesedi's project documents. Another very useful feature of the system is the control of defects utilising their Field module mobile phone application. It is part of the Aconex platform and can record, distribute and close out defects by using your mobile phone.
De Villiers suggests that the company has also advanced its capabilities in managing documentation by implementing its documental management M-files platform.
The platform not only provides support in developing and managing the company's in-house documentation but can also function across different organisations as a review and approval platform. The platform also links up and can also be used as part of Microsoft Teams.
When executing its projects, the above-mentioned systems and platforms remain valuable tools to ensure that the Big Data generated on projects are packaged in a useful manner to help make better project decisions.
"The effect is a reduced overall project risk, capitalising on opportunities and reduced cost of quality by acting timeously on input data from these systems," concludes De Villiers.