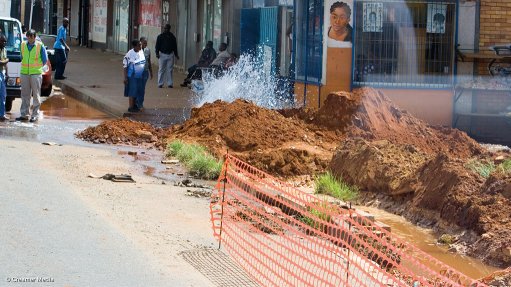 MUNICIPAL PROFICIENCY Cesa suggests that engineers head municipal infrastructure departments
Photo by: Duane Daws
To enhance and monitor the quality of municipal infrastructure and services, engineers should head the various departments of South Africa's municipalities as they have the necessary skills and expertise to understand the engineering aspects of the services in question, voluntary association, Consulting Engineers South Africa (Cesa) CEO Lefadi Makibinyane suggests.
"Municipalities need professionally registered engineers, who understand the engineering imperatives, conditions and inadequacies of infrastructure, and have the know how to augment and provide an uninterruptable quality service for communities," he stresses.
Makibinyane cites key challenges for municipal engineers as a lack and loss of respect for their skills, experience and expertise; corruption; political leadership interference; and a lack of understanding of the technical issues and priorities by departments.
Moreover, the employment of nonengineers, who lack the required engineering skills to head the various infrastructure departments, hampers municipalities providing quality services, he adds.
"A mind-set must be created in municipalities to ensure the effective management, implementation and integration of services and infrastructure into modern technologies. When engineers promote various upgrades, their suggestions must be considered and implemented," Makibinyane suggests.
"In addition, managing municipal public works and infrastructure departments would enable qualified and professionally registered engineers to measure and monitor the quality of services from private suppliers and the performance of construction contractors and outsourced services to ensure . . . enhanced quality services," he explains, highlighting that quality services will eliminate service delivery protests and disruptions.
Cesa also "urges that structural changes be made to the way in which municipal engineers operate, including the abandonment of long-term employment contracts for key technical and managerial staff" on its website, adding that tender and bid evaluation committees must include technical, legal and financial executives in joint sittings, and professional teams must be allowed to compile reports independently on tenders for the bid evaluation committees.
Makibinyane also suggests the appointment of proficient municipal or city managers to ensure the protection and effective delivery of municipal administration without any interference.

Makibinyane emphasises the current demand for engineers in municipalities, with many positions requiring engineering skills, adding that this is crucial to the advancement of government's National Development Plan (NDP), which will require services from civil and municipal engineers.
"Municipalities have to align their integrated development plans (IDPs) with the NDP and, while the NDP reflects the growth and projected growth of the country's infrastructure, this infrastructure has to be improved at municipal level," he says.
An IDP is a plan that guides the activities and decisions of a municipality for the next five years, in terms of Chapter 5 of the Municipal Structures Act of 2000, according to the National Treasury.
Further, owing to the increasing demand for municipal infrastructure maintenance and quality operations, Makibinyane suggests the establishment of maintenance- and operations-orientated municipal teams to ensure sustainable and robust bulk water supply and electricity network infrastructures to prevent the deterioration of existing municipal infrastructure.
As there is such a significant demand for engineers at municipal level, positions for municipal engineers must be incentivised, Makibinyane says, adding that they must be encouraged to register as a professional engineer to encourage proficiency in the industry.
"Nevertheless, the country has an abundance of good quality engineers that can be deployed to improve the situation at various municipalities," Makibinyane concludes.