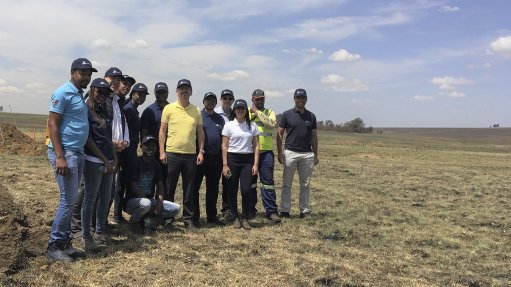 The team on an ENERTRAG site visit
Hydrogen and renewable energy project developer ENERTRAG South Africa has started with the installation of a 120-m-tall wind measurement mast near Eskom's Hendrina power station in Pullens Hope, Mpumalanga.
A minimum of 12 months' ground assessment of wind and general climate conditions, coupled with satellite wind data, will inform whether utility-scale wind farm development is feasible in the vicinity of Hendrina.
ENERTRAG South Africa operations director Stephen Koopman told Engineering News Online during a site visit last week that a wind farm could provide job opportunities and industrialisation potential in the area as the State-owned power utility plans to decommission Hendrina over the next few years – as it reaches the end of its economic life.
This forms part of efforts to ensure a just energy transition, which will require new industries to be established in areas where coal mines and coal-fired power stations underpin the economy and account for a large proportion of jobs. The long-term intention is to have mining companies and workers to potentially take equity in the wind farm and other clean energy developments, said ENERTRAG South Africa.
The Mpumalanga province is, however, not known to be as rich in wind resources as the Western, Northern or Eastern Cape. But ENERTRAG is confident that economic wind farm development is nevertheless possible in the province.
Three of the ten 200 MW units at the Hendrina power station have already been decommissioned.
"This is the first tangible step in a renewable industry initiative to create jobs in the mining regions of South Africa. It presents mining workers that face imminent job loss with an opportunity to take part in future clean energy infrastructure," said ENERTRAG project development MD Zuben Jessa.
He added that renewable energy projects are also job-intensive and, therefore, provide a huge opportunity for the coal region around eMalahleni, where the decommissioning process of ageing coal-fired power plants will take place over the next decade.
Koopman noted that the Mpumalanga mining region already has existing grid infrastructure, which reduces the grid integration cost of renewables.
ENERTRAG South Africa meteorological mast project manager Yasmina Dada explained that the wind measurement mast has six anemometers that are placed at different heights of the tower to measure wind speed. Other instruments, such as thermometers, humidity sensors, barometers and a solar power supply are also built into the mast.
All the wind data gathered by the equipment is stored on a "data log box", which locks information so that people cannot download and manipulate data.
She explained that the mast is 120 m tall as this is in line with the height of wind turbines.
ENERTRAG South Africa currently has seven other wind mast measurement sites in South Africa, and it in addition owns Darling Wind Farm in the Western Cape.
Koopman stated that a potential future wind farm in Mpumalanga would either be part of the Renewable Energy Independent Power Producer Procurement Programme or look to contract directly with private offtakers such as mines in the area.
ENERTRAG South Africa's approach to the project resonates with the Department of Environment, Forestry and Fisheries announcing the eMalahleni region as one of three new renewable energy development zones.
The wind farm development initiative is also aligned with the Public Private Growth Initiative, which outlines a transition roadmap for areas where coal and gold mining are in terminal decline and incorporates renewables employment and industrialisation components in these regions.