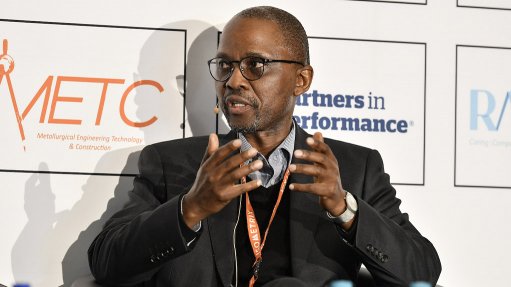 Exxaro CEO Mxolisi Mgojo
Photo by: Creamer Media's Dylan Slater
JOHANNESBURG (miningweekly.com) – South Africa's transition from coal-fired electricity generation to other sources is a "complicated problem to solve", in the sense that the solution cannot depend on one organisation, or entity, alone, Exxaro Resources CEO Mxolisi Mgojo told delegates at the Joburg Indaba on Thursday.
This was in response to a question by African Rainbow Energy and Power CEO Brian Dames, who added that South Africa would also need to consider global trends.
Focusing on South Africa's "unique and current situation", Mgojo said the solution did not stem from having one energy source, or another.
The issue was rather the huge levels of inequality and unemployment, a failing education system and serious corruption issues, he stated.
This is just the country's socioeconomic problems, without even getting to the energy debate, he added.
South Africa would have to deal with its social and economic challenges while transitioning to using new energy sources, Mgojo elaborated.
However, the need to transition was the "right path" for South Africa in the long term, he noted.