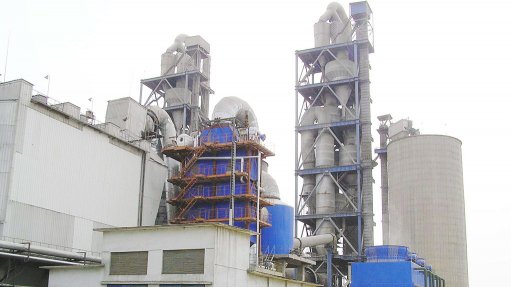 WASTE-HEAT RECOVERY A waste-heat recovery system in a cement plant
Base metals-production industries can maximise the capture of waste heat and reuse it to reduce energy use, and South Africa does not have many heat reclamation systems in place, compared with widespread use of these systems in developing countries, such as China, says energy-intensive industry specialist company Dickinson group technical director Dave Bekink.
Flue gas recapture is a common waste-heat recovery where technologies have not been widely adopted in South Africa. There remains a vast amount of waste heat that has not been tapped into. This potential to use residual waste heat exists in the base metals industries, including copper, aluminium and steel.
Future waste-heat recovery systems will be slag waste-heat recovery. This will be achieved through a process of dry granulation and then extraction of the heat in the granules by blowing them through a boiler to extract the heat and cool them rapidly.
The slag, which is between 1 200 ºC and 1 800 ºC depending on the metal and the process, is sent to an air blower or rotary disc, which causes the hot slag to form tiny spherules. These spherules are then used in a boiler that extracts the heat from the granules before they are taken to a dump or used as an aggregate for construction, he explains.
Dickinson holds the local agent rights for heat-recovery boilers and electrical generation systems, and between 25% and 75% of heat used in smelting and heating processes can be recovered, he adds.
Bekink highlights the 12ℓ energy efficiency incentive of the Income Tax Act (No 58 of 1962), which companies can use to access a tax rebate to support its deployment of energy efficient equipment, but notes that significant improvements in energy efficiency, and lower costs will also improve the terms of commercial loans and financing agreements.
The incentive requires that energy use, the expected impact on process efficiency and the efficiency rating of the equipment be verified according to South African National Standards, and companies should use suitable South African Bureau of Standards (SABS 50001) methods to measure energy use and comply with local standards requirements, he adds.
While greater heat recovery will help to improve the energy efficiency of base metals industries' smelting and production processes, it is the combination of practices and technologies that will yield a sustainable drop in energy use, he says.
"A focus on improving the functioning of all systems to ensure they are as efficient as possible will lead to a direct and sustainable improvement in energy efficiency and will also improve energy-management best practices. "Dickinson advises companies in the base metals, cement and steel industries to focus their efforts on water and ventilation to derive electrical savings.
"Variable-speed drives help to reduce the power consumption of fans, motors and pumps, and the smart monitoring of the performance of such systems will ensure that energy is not wasted because of inefficient material flows or that bottlenecks do not occur and downstream processes are not slowed down."
Renewable energy is unsuitable for use in energy-intensive processes and industries, but can be used to power ancillary systems and offset various peak-tariff charges. Other technologies, such as energy storage systems, can fulfil similar roles by helping to manage and reduce overall energy consumption by secondary systems and optimise time of use tariffing.
However, while there are compelling industrial and commercial reasons to deploy energy efficiency measures, the commodity markets remain under pressure and the industries in South Africa are also under significant pressure.
"Local market conditions should prompt base metals industries to benchmark themselves against international costs of production, and they should aim to be internationally competitive to ensure that their fortunes are not determined or dominated solely by local economic conditions."
International competitiveness will also enable companies to bid effectively for local work such as producing components for infrastructure development.
While the industrial process is the key factor in determining the financial viability of an industrial energy efficiency project, the return-on-investment horizons in base metals industries for energy efficiency projects are typically between three and five years, says Bekink.
"Making all industries more efficient – not only the energy-intensive industries – will free up between 20% to 30% of energy and at a much cheaper price than building new power stations and transmission infrastructure."
However, Bekink warns that a stable economic and investment climate is necessary to stimulate investment in industry. To be internationally competitive, even against subsidised companies, energy-intensive industries, including the base metals and cement industries, must be able to substantiate the business cases.
Government policy to incentivise and support the adoption of energy-efficient equipment is a key intervention that can be done immediately to support industries that are key to development, concludes Bekink.