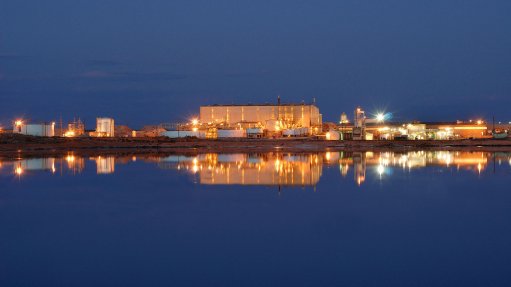 The White Mesa mill, in Utah.
Uranium and rare earths elements (REE) company Energy Fuels CEO Mark Chalmers is optimistic that the proposed $1.5-billion to create a US uranium reserve will be funded and implemented, despite sometimes "slow and uneven" progress in the government.
"Our allies in Congress and the Trump Administration are pushing hard to fund $150-million a year to create the US uranium reserve," he says, referring to the 2021 Budget request for the Department of Energy (DoE) to establish a domestic reserve.
The US House of Representatives Committee on Appropriations directed the DoE to resubmit a plan for the proposed establishment of a uranium reserve, prior to the reserve being funded in the 2021 Energy and Water Development and Related Agencies Appropriations Bill. The committee determined that the DoE had not provided sufficient information about how it would implement the programme.
The Trump Administration announced the proposed reserve in April, when the US Nuclear Working Group published its report on measures to revive and strengthen the US uranium industry.
The report provided a number of policy recommendations, including direct government purchases and supporting efforts to lower Russian uranium imports over the long term.
Chalmers reported that Energy Fuels was "heavily engaged" in the process to extend the Russian suspension agreement. "We are encouraged that the US Department of Commerce appears committed to negotiating an agreement that will provide concrete benefits to the US uranium mining sector."
Meanwhile, the strong uranium spot price is benefiting the company, which earlier this year resumed limited uranium production at its White Mesa mill in Blanding, Utah, from alternative feed materials and pond returns.
"Uranium spot prices are up 30% so far this year, as Covid-related production suspensions at major global uranium mines have created a widening gap between supply and demand and a strong potential for higher prices in the future. This means a higher realisable value for our uranium inventory," states Chalmers.
On July 31, the spot price of uranium was $32.25/lb and the mid-point spot price of vanadium was $5.30/lb, which placed a market value of $27.5-million on Energy Fuels' concentrate inventories.
The company expects to have between 640 000 lb and 690 000 lb of finished uranium and 1.675-million pounds of finished vanadium in inventory at the end of 2020.
Energy Fuels is considering increasing production at its facilities, which include the operating White Mesa mill, as well as the idled Nichols Ranch ISR facility, the Alta Mesa ISR facility, the La Sal complex and Canyon mine.
On the REE front, Chalmers says Energy Fuels has made significant strides in entering the market.
The company is currently performing test work, which it believes will be highly scalable and will allow it to produce a rare earth concentrate sooner, and at a lower cost, than other US initiatives.
Energy Fuels has engaged several rare earth industry experts to assist in its endeavours, and has entered into a nonexclusive letter of intent with Neo Performance Materials under which Neo will provide technical and commercial assistance, and both companies will work together toward potentially creating a longer term mutually beneficial relationship.
"We are moving very quickly on our rare earth initiative with an eye toward generating cash flow within the next 12 months," says Chalmers.