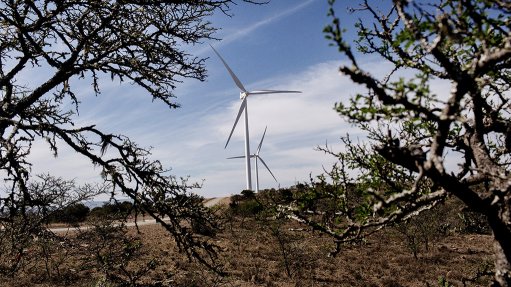 Enel Global Renewable Energies' Enel Green Power (EGP) division, in Southern Africa, has reached financial close on five new wind farms with about 700 MW in capacity.
The five wind farms – Nxuba and Oyster Bay, in the Eastern Cape, and Garob, Karusa and Soetwater, in the Northern Cape – have a capacity of about 140 MW each, and were all awarded in round four of the South African government's Renewable Energy Independent Power Producer Procurement Programme.
Each project is minority-owned by a local partner.
The total investment value is about €1.2-billion, of which Enel will contribute about €230-million in equity for the construction of the wind farms, and the remaining €950-million will be contributed by senior lenders Nedbank and Absa.
Led by Norton Rose Fulbright banking and finance head Jackie Midlane, the law firm advised Enel on a range of issues related to this form of financing, including the structuring and negotiation of the finance documents, as well as the related hedging and security with the lenders.
Norton Rose Fulbright also assisted with the structuring, drafting and negotiation of 35 project contracts with numerous counterparties, which included, but were not limited to, contracts and agreements relating to the supply and installation of wind turbines and connected equipment.
Additionally, the law firm also advised on the structuring, drafting and negotiation of intergroup contracts and agreements with the minority stakeholders in the five special-purpose vehicles, including local partners Pele Energy, Khana Energy and trusts formed by local communities.
"Following our work for EGP in relation to Round 3 of South Africa's Renewable Energy Independent Power Producer Procurement Programme, we are delighted to have assisted EGP on the successful completion of this innovative and complex transaction," Midlane commented in a separate statement.
Working across several jurisdictions and under a very tight timeframe, she highlighted that Norton Rose Fulbright helped EGP implement a first-of-its-kind financing structure, which will support the growth of its business and investments in Africa.
Following the financial close, construction of the first wind farm, Nxuba, is expected to start by the end of this year. It is expected to be operational in the second half of 2020.
Construction of the Oyster Bay and Garob wind farms is expected to start by the first half of 2019, while construction of the Soetwater and Karusa wind farms is expected to start in the second half of 2019.
Oyster Bay will become operational in the first half of 2021, while Garob, Soetwater and Karusa will become operational in the second half of 2021.
By 2021, all five new wind farms are due to be up and running, bringing EGP's total installed capacity in the country to more than 1.2 GW.
Once operational, the five projects are expected to produce around 2.6 TWh/y, saving about 2.7-million tonnes of carbon dioxide emissions every year.
EGP head Antonio Cammisecra commented that the company had "reached an important milestone in South Africa by achieving financial close on five major wind projects which confirm [the company's] continuing commitment to the country's renewables sector, within a context of sustainable development".
He added that EGP will support these processes by generating its emission-free energy in partnership with local shareholders and in cooperation with the local communities, according to Enel's long-term vision of shared value creation.