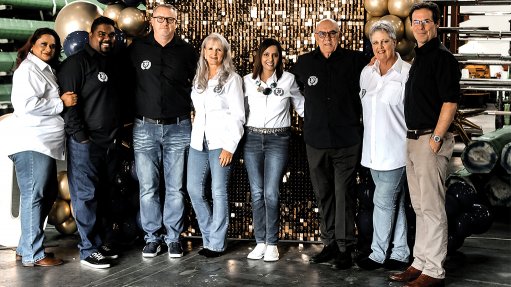 EMV Africa this year celebrates 30 years of service excellence, supplying the market with top-quality industrial stainless steel and valves since 1992.
Founder Hugh Witty established Energy Metals from humble beginnings, selling stainless steel products from his home. Joined by Ken Perel with Multi Alloys in 1997, a powerful partnership was born. In 2018, Energy Engineered products was rebranded to EMVAfrica and in 2021 Multi Alloys became a division of EMVAfrica, having grown from only three employees to a staff of over 60 people.
With a focus on sourcing and supplying specialised alloys to niche markets, EMVAfrica draws on its vast technical expertise and industry knowledge to provide effective solutions to its customers.
Its three divisions service different markets with unique products:
EnergyMetals: stainless steel specialists, continually expanding its range of process materials such as pipe and flanges, and engineering materials such as round bar and polished tube.
EnergyValves: valve and actuation specialists, with increasing actuation and automation offerings.
Multi Alloys: specialists in nickel alloy duplex and high alloy stainless steel, titanium and leading stockists of specialist niche metals. EMVAfrica is continuously investing in stock and supporting local industry and manufacturing.
EMVAfrica prides itself on helping customers solve business challenges using its 3-S factor of Stock, Service and Solutions – sourcing and supplying superior quality products from around the globe, providing support and expertise based on 30 years' industry experience, and implementing a 360° approach to problem-solving.
EMVAfrica's growth potential lies in growing its investment in stock and broadening its range of products. Having set a target three years ago to treble its turnover within five years, EMVAfrica expects to exceed this goal over the next two years, despite Covid-related setbacks and global supply chain disruptions.
As an ISO 9001 certified, broad-based black economic empowerment Level 4 company, EMVAfrica is proudly South African, with a mission to be the leading one-stop stainless steel and valve supplier in Africa.