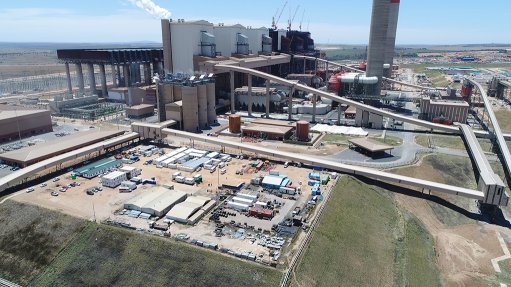 Kusile
State-owned utility Eskom was forced to implement Stage 4 load-shedding on the evening of May 16 after Unit 2 at the Kusile power station tripped, Eskom spokesperson Sikonathi Mantshantsha said.
The tripped Kusile unit removed 720 MW of generating capacity from the already constrained grid.
"The major challenge that we have at Kusile is the novel technology of flue gas desulphurisation (FGD), which we have struggled to bed down.
"This particular emission control equipment causes us to have a single point of failure on a unit so if the unit doesn't work, there is no way of bypassing the FGD, causing us to have to shut down the entire unit," Eskom CEO Andre de Ruyter said.
He said the utility had been having considerable challenges on the FGD unit and had obtained support from the original-equipment manufacturer to assist.
"We're struggling to get that under control," De Ruyter said.
While the tripped Kusile unit had since been returned to service, Mantshantsha said it would slowly load up to full capacity during the night.
Moreover, he said a generating unit at each of the Hendrina, Tutuka and Kriel power stations had also been returned to service, while a unit at the Arnot power station had been taken offline for repairs.
Mantshantsha said the utility had 1 904 MW on planned maintenance, while another 17 255 MW of capacity was unavailable owing to breakdowns.
Eskom COO Jan Oberholzer explained that the load forecast for the evening of May 16 was just under 31 000 MW, while the capacity available – excluding gas – was just over 27 000 MW. This meant that there was a shortfall of about 4 000 MW.
However, Oberholzer said the forecast demand peak was expected to rise to about 33 000 MW by the end of May, which made it all the more urgent that this capacity be restored urgently.
"We do have a significant shortfall for the evening peak because our demand pattern has moved to a typical winter pattern. The peaks during the evening are much more than during the daytime. The system is capable of handling daytime demand," De Ruyter explained.
He said that, while this limited the impact on business, the impact on domestic consumers was "particularly pronounced and highly regrettable".
THE STATE OF ESKOM'S CAPACITY
De Ruyter explained that two generating units recently went down at Arnot, while another unit at Duvha had been out for more than six months owing to very poor performance from in-house contractor Eskom Rotek Industries and the power station management team.
He said that the Duvha unit was supposed to have come back on May 5 but this date had not been met. He promised that appropriate action would be taken against those responsible for the failure to deliver the Duvha station back to working order.
Meanwhile, Koeberg's unit 2 continued to be nonoperational owing to refuelling, De Ruyter said, depriving the grid of a further 900 MW of stable power.
Oberholzer confirmed that Koeberg's dormant unit would only return to operation in June as extensive maintenance work continued to be carried out at the plant.
Moreover, a hydrogen explosion at Medupi's unit 4 removed another 720 MW last August. The damage caused by the explosion has still not been rectified and the affected unit remains offline.
"The combination of these two units in particular really has put us in a position where our capacity is incredibly constrained," De Ruyter commented.
On a more positive note, the Tutuka power station had three units currently operating, which means the power station was operating better than it has historically, De Ruyter pointed out.
Meanwhile, two generation units at Matla were also down, adding to the constraints.
At Matimba, De Ruyter said, the utility continued to experience challenges with cooling fans, which are causing load losses.
"When the station was conceived and built in the 1970s, the station was oriented in the wrong direction relative to the prevailing wind. This has caused us to be very dependent on additional cooling and, when our cooling fans don't function as they should, we suffer what are known as vacuum load losses," he explained.
Meanwhile, the Majuba power station also continued to perform quite poorly, he lamented.
"We've got two units completely out and then we have 511 MW in partial load losses. So that's quite disappointing," De Ruyter said.
Two more units were out of service at the Lethabo power station on unplanned losses, while a third unit was out for scheduled maintenance, depriving the grid of a further 1 500 MW.
The Kriel power station also had two units out of commission and partial load losses of 311 MW, adding up to a total of about 900 MW of capacity that was not available.