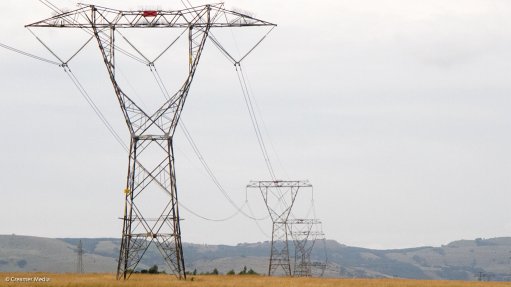 Photo by: Creamer Media
The market structure section inserted into the Electricity Regulation Amendment Bill provides for a shift to a competitive multimarket electricity supply industry, which represents a significant departure from South Africa's long-standing vertically integrated model monopolised by Eskom.
Published for comment this week by Mineral Resources and Energy Minister Gwede Mantashe, the new market structure is outlined in Section 32 of the Bill, which is proposed for insertion into the Electricity Regulation Act of 2006.
The multimarket structure would cater for three kinds of transactions, including:
market transactions, whereby a nondiscriminatory trading platform would allow willing buyers and willing sellers to trade with each other on an hourly and daily basis;
physical bilateral transactions, where licensed and registered generators enter into physical bilateral contracts for energy production with customers and traders; and
regulated transactions, which involve the conclusion, through a central purchasing agency, of power purchase agreements with generators to meet demand and the procurement of ancillary services as required by the system operator.
The Bill also inserts Section 30 to cater for the establishment of a Transmission System Operator (TSO) and Section 31, which details the functions of the TSO.
The TSO functions, as outline in the proposed legislation, would include the operation and expansion of the physical transmission network, as well as that of the role of system and market operator.
The Bill dovetails with the vertical separation efforts currently under way at Eskom, which will result in the company being divided into three independent businesses, under Eskom Holdings, of generation, transmission and distribution.
In December, the National Transmission Company South Africa (NTCSA) was registered with the Companies Intellectual Property Commission and the Eskom transmission business transferred to it as a going concern.
However, the NTCSA would be operationalised only once it had secured creditor consent, obtained a licence from the National Energy Regulator of South Africa (Nersa) and signed an intercompany loan agreement.
Eskom has stressed on several occasions that existing debt facilities, including its bonds, will remain on its balance sheet following the transfer of the transmission division to NTCSA.
In his State of the Nation Address, President Cyril Ramaphosa said Eskom was on track to complete its unbundling of NTCSA by December 2022.
He also described the amendments to the Electricity Regulation Act as "far-reaching" and said they would enable a competitive market for electricity generation.
This is underlined in the preamble to the Bill, which states that the proposed legislation seeks to establish a national regulatory framework for the electricity supply industry, make Nersa the custodian and enforcer of that regulatory framework and to cater for the establishment of the TSO, to provide a competitive multimarket structure.
The amendment Bill was published for comment on February 10 and interested and affected parties have 30 days to submit written comments to the Department of Mineral Resources and Energy.